Tuscan traditions at Castello del Nero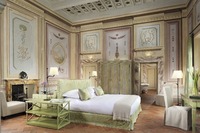 Leading Hotel of the World, Castello del Nero is once again readying itself to welcome discerning visitors to Tuscany from Easter 2012. The final touches are being made in anticipation of guests seeking sanctuary among its 400 hectares of rolling countryside, in its immaculate grounds peppered with ancient trees, and among its frescoes, beamed rooms and gracefully restored interiors. First opened as a hotel in 2006, the 38-room and 12-suite 12th century castle boasts the region's first ESPA spa - there are only three in all Italy - La Torre Restaurant, and a wine cellar unrivalled locally.
Located twenty minutes from Florence and thirty minutes from Siena, Castello del Nero commands views across the rolling Tuscan hills and vineyards from its meticulously restored rooms, shade dappled terraces and heated outdoor pool. The estate produces its own red wine and extra virgin olive oil, showcased in the restaurant and spa menus and ideal for impromptu tastings. Each of the 50 bedrooms - distinctive in layout, appearance and ambience - is furnished with original pieces and art treasures, all designed under the supervision of the Italian Fine Art Commission. Frescoes, family crests and vaulted ceilings evoke a vibrant and vivid history.
With décor inspired by the colour palette of centuries past, the 32 double rooms are located in the main castle building and in the charming farmhouse annexes facing the castle. The 18 elegant suites – most boasting frescoed walls and ceilings – include marble and mosaic bathrooms and king-size beds adorned with goose down duvets and cashmere blankets.
Tuscan traditions and produce are at the heart of the menus designed and created by the Executive Chef, served in La Torre Restaurant. The high arched ceilings, terracotta tiled floor and exquisite fireplace of the castle's former stables provide a magnificent setting for breakfast, lunch and dinner; al fresco diners on the Garden Terrace enjoy glorious views of the Castello del Nero estate. The Bar, a series of interconnected wooden-beamed rooms, provides a cosy pre-dinner rendez vous and post-dinner hideaway in which to savour some of Castello del Nero's selection of fine local wines, reserve cognacs or bespoke cocktails. Descend an ancient stairway to discover the 12th century brick and stone wine cellars with one of the castle's sommeliers.
The region's first destination spa, created by global spa specialist ESPA, offers signature treatments including Olive Oil and Pink Clay Oriental Inspired Head Massage and Sea Salt and Tuscan Rosemary Body Exfoliation. Laconiums with Tuscan views, an outdoor portico-covered Vitality Pool, ice fountains and aromatic Caldarium steam rooms create a truly Tuscan spa experience.
Bridal couples find the hotel chapel of San Michele an enchanting setting for exchanging vows. Restored to its original splendour and retaining historic features and a vaulted ceiling decorated with a white dove, the chapel opens onto immaculate Italian Gardens blooming with Florentine roses and shaded by centuries old cedar trees.
Castle guests can explore the Renaissance wonders of Florence and the medieval city of Siena - both within easy reach for day visits – or simply amble through the olive groves and vineyards of Chianti, happening upon walled market towns and ancient churches. Wine and olive oil tastings, vineyard visits and Tuscan cookery lessons can be arranged with ease.
Cox & Kings (coxandkings.co.uk) offers a 5 night stay at Castello del Nero priced from £1,145 per person including British Airways flights, car hire for six days and accommodation in a Tuscan room with breakfast daily.