Another first-time buyer steps onto the ladder at Poole Quarter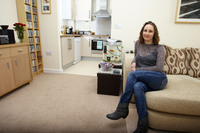 Crest Nicholson's hugely popular Poole Quarter development in Poole has welcomed yet another first-time buyer 'on-board'. Emma Ball, 35, is now the proud owner of a brand new one bedroom apartment thanks to the house builder's EasyBuy scheme, designed especially to help first-time buyers reach that all important first rung on the property ladder.
As a call centre manager in Poole town centre, Emma primarily chose the development for its central location, which is within walking distance to her work. Emma said: "The development is ideal for me with work just on my doorstep and I love being able to live so close to the sea. It gives me the best of both worlds; convenience and a coastal lifestyle."
The EasyBuy scheme allows first-time buyers to own 100% of their home but only pay 80% of the price upfront. Unlike other incentives, there is absolutely no rent to pay or interest accrued on the outstanding 20% of the property's equity for the first five years. The outstanding loan amount is paid back as a percentage of the property's open market value at any time up to resale or after 10 years, whichever is sooner.
Emma grew up in Poole, so was delighted to take the chance to be able to buy a property in her hometown. Emma commented: "I am already very familiar with the local area - and a couple of my friends live within Poole Quarter, so it was ticking boxes straight away. After renting in Bournemouth for a couple of years I decided I wanted to move back to Poole and Poole Quarter seemed the ideal place for me."
Poole Quarter's EasyBuy apartments have been hugely popular with first-time buyers, who want to live in a new build property that combines contemporary living with all the essential home comforts. With only four one and two bedroom apartments left at Poole Quarter, first-time buyers are being urged to act now before they miss out on this opportunity to live in its central location. Emma's large one bedroom apartment also features a Juliette balcony, perfect for the summer months. Emma added: "This is the first time I have lived in a new build property – the apartment is a really good size and I love the fact that no one else has lived here before."
Christine Tiernan, Sales and Marketing Director for Crest Nicholson South, said: "The EasyBuy at Poole Quarter is a fantastic scheme for first-time buyers and our remaining apartments offer a taste of luxury at an affordable price. The low deposit is extremely attractive to new purchasers who haven't yet been able to afford to join the property ladder. With the government's first-time buyer stamp duty relief set to end in March, first-time buyers should look to move soon to take advantage of this current saving. All those interested should visit our sales office to see first hand the quality and lifestyle that Poole Quarter has to offer."
Poole Quarter is close to shopping facilities, restaurants, a leisure complex and is a short distance to the town centre and local train station. Furthermore, the development is in a perfect location for water sports enthusiasts, with sailing, jet-skiing and windsurfing hotspots on its doorstep.
Through the Easybuy scheme first-time buyers can benefit from a low deposit and can purchase a one bedroom apartment from only £117,600 (full price £147,000) and just £160,800 (full price £201,000) for a two bedroom apartment at Poole Quarter.
For more information, visit crestnicholson.com.