Fleur finds her perfect home after buying from plan at Beverley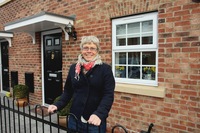 Not everyone has the courage or confidence to buy a brand new home from plan – but for Fleur Duke, it turned out to be a perfect decision!
Fleur is now settling into her new light and spacious three-bedroom home at the St Nicholasgate development in Beverley, with Linden Homes having helped to make the move hassle free.
From what she describes as a 'quirky individual home in an idyllic village location overlooking the duck pond' Fleur made the bold move to sell her house and be one of the first to register her interest at the Flemingate-based development.
She sold her existing property through the Linden Homes assisted sale incentive, and now thoroughly enjoying life her in new home – complete with allocated parking for two cars and solar panels, Fleur said: "Buying from plan was a bold move, but I registered my interest in the site as soon as the land acquired signs went up.
"I loved the location, the fact that it was within walking distance of the town centre and on seeing the plans thought the layout of the whole development was great.
"Having seen my house being built from the foundation stage right to completion – and now of course living here – it has exceeded my expectations. The whole of the Linden Homes team has been fantastic and really took the weight off my shoulders when it came to the Assist incentive."
She added: "Nothing has been too much trouble and everyone has gone that extra mile. All my friends have been very impressed with my new home and I'm delighted with its wonderfully layout and cosy feel. It offers a sense of graciousness and gives me space to breath, I adore it."
Located close to the city centre, once complete St Nicholasgate will comprise a fabulous selection of 130 carefully-designed two, three and four-bedroom energy efficient homes - built in varying styles to appeal to everyone from first time buyers, families, couples or single occupants.
And like Fleur, the residents will make up a brand new community, marking a new era for the area.
The popular Assist scheme is designed to make the purchase of a new home as hassle-free as possible. Linden Homes will:
Arrange for two independent valuations of your home

Suggest a realistic selling price based on the valuations, and if you agree, you can reserve the home of your choice.

Instruct an estate agent to sell your existing home within a specified timescale, working closely with the agents to ensure maximum publicity and viewings.

Appoint a solicitor and mortgage broker to speed up the process. If your home doesn't sell in the agreed period, Linden Homes will refund half your reservation fee and extend the selling period.
Prices at the development currently range from £199,950 to £244,950. For further information, visit lindenhomes.co.uk.