New homes in Stoke-on-Trent for first-time buyers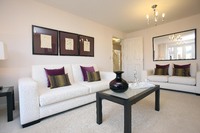 Taylor Wimpey is urging would-be homeowners to discover how easy it can be to purchase their perfect property at The Pinnacle, its sought-after development of new homes for sale in Stoke-on-Trent.
First-time buyers who believe the Staffordshire property ladder is out of their reach will think again if they attend Taylor Wimpey's Mortgage Myths Weekend at The Pinnacle development of property for sale in Stoke-on-Trent.
New research suggests that many would-be buyers are deterred from purchasing a new property in Stoke-on-Trent because they assume they won't qualify for a mortgage – but this special event on Saturday 10th and Sunday 11th March will see Taylor Wimpey set the record straight.
Between 11am and 5pm at the Taylor Wimpey Stoke-on-Trent development, located in Bellerton Lane, off Leek New Road, Taylor Wimpey experts will dispel popular misconceptions about mortgage lending and explain to potential first-time buyers in search of apartments or houses for sale in Stoke-on-Trent how it could be much easier than they think to afford their very own home.
Carl Cooke, Regional Sales and Marketing Director for Taylor Wimpey, says: "Latest research shows that 92% of people think it is hard for first-time buyers to secure a mortgage, and that two out of three prospective property purchasers are completely put off from applying because they fear they will be turned down.
"By attending our Mortgage Myths Weekend at The Pinnacle, would-be buyers will not only find a new property could be comfortably within their reach, but they'll be pleasantly surprised at how straightforward and stress-free the whole process can be when purchasing a Taylor Wimpey home – and they may only need a 5% deposit."
During the Mortgage Myths Weekend, Taylor Wimpey's experienced sales team and an independent financial advisor will be on hand to demystify the mortgage application process.
The IFA will also be able to assess individual circumstances and offer advice on how it is possible to secure a brand new Taylor Wimpey home at The Pinnacle.
First-time buyers can also find out about the range of money-saving incentives offered by Taylor Wimpey, which means they could potentially purchase their new property with only a 5% deposit.
The Government-backed FirstBuy scheme is one of the initiatives available for first-time buyers at The Pinnacle and means selected new homes can be accessed by eligible purchasers for 80% of their full price, including a 75% mortgage and a 5% deposit, subject to status.
This fantastic incentive is currently available with the stylish two-bedroom 'Clee' coach house-style apartment, priced £119,995, which can be secured by a qualifying purchaser for an 80% FirstBuy price of as little as £95,996, including a 5% deposit of only £6,000!
Alternatively, the three-bedroom 'Harvington' terraced house is available under FirstBuy for 80% of its £144,995 price – that's just £115,996.
Full details of this incentive, and other schemes for first-time buyers, will be available during the Mortgage Myths Weekend.
Commanding an excellent location within easy reach of the Peak District, The Pinnacle boasts stunning views and is ideal for anyone who loves the great outdoors.
Closer still, there's a choice of shops selling everyday items within walking distance of the development, while the area boasts seven primary schools within one mile of the homes, as well as two secondary schools. The highly regarded Keele University is under 10 miles away, while Alton Towers, Festival Park and Trentham Gardens are nearby, offering opportunity for family days out.
Commuters will appreciate that the development is a 10-minute drive from the M6, and that Greater Manchester, the Midlands and North Wales are all within easy reach.
Mortgage Myths Weekend takes place from 11am to 5pm on Saturday 10th and Sunday 11th March at The Pinnacle Sales Centre, located off Leek Road, Stoke-on-Trent.

For more information, visit taylorwimpey.co.uk.