Signed Johnny Cash menu returned to Dromoland Castle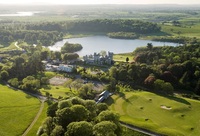 Dromoland Castle is a firm favourite with celebrities and royalty from across the globe and this week the hotel was delighted to receive a signed Johnny Cash menu which had been given to former head chef Sheila Hurley. Cash stayed at the luxury Irish resort with his wife June Carter during his European Tour, which covered the UK and Ireland in 1975.
The 36-year-old menu, listing a five-course meal for under five Irish pounds; roughly equivalent in value to the hotel's current 65 Euro dinner menu, is signed "Sheila, much love, Johnny Cash" and was presented to the hotel by the late chef's son.
General manager Mark Nolan commented, "We're thrilled that this treasured memorabilia has been brought to Dromoland Castle and will be displaying it within the hotel for visitors to see. Johnny Cash stayed at the hotel for three nights and drank Dom Perignon in true rock'n'roll style. Other guests here at the same time included Richard Burton* and rally car driver James Hunt.
"Dromoland Castle prides itself on exceptional standards of service and hospitality and continues to appeal to high-profile guests who can enjoy total privacy amidst our 410-acre resort, yet easy international access via Shannon Airport, just twenty minutes away."
Stars who have stayed more recently at this majestic hotel, which boasts 99 individually-styled rooms and suites, include Bono, John Travolta, Richard Branson, Jack Nicholson and Demi Moore, as well as two US presidents; Bill Clinton and George W. Bush.
Guests can enjoy dining in the exquisite Earl of Thomond restaurant and relax in the Cocktail Bar, housed in what was formerly the castle library, whilst the wide selection of activities on offer includes golfing, falconry, fishing, clay shooting, archery, tennis, cycling or swimming. The resort also boasts the chic Spa at Dromoland with exclusive pampering treatments from Anne Semonin - the celebrity favourite - and the organic Irish Voya range.
Stay at Dromoland Castle from £85 per person per night, based on two sharing a Queen Anne room**.
To book, visit: dromoland.ie
Fly direct to Shannon from nine UK departure airports from as little as £9.99 with Aer Lingus***.
*This was the year that Burton married the late Elizabeth Taylor for the second time.
**Based on a midweek stay with room-only accommodation.
*** Based on travel from London Heathrow. Excludes taxes and baggage. See aerlingus.com