Cabasse limited edition piano black iO2 speaker system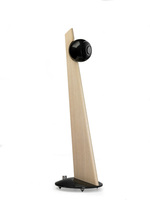 Cabasse is launching a special limited edition version of its hugely popular iO2 speaker system finished in a high lustre piano black, to blend high quality audio performance and discrete looks with the latest must-have finish and without any increase in price.
Intended for use as a high quality stereo pair or as part of a multi-channel system, combined with the piano black finished Santorin 25 active subwoofer, the iO2 is a compact satellite speaker which features a 13cm Duocell mid/bass driver and 25mm rigid dome high frequency unit in a co-axial arrangement.
Cabasse has long been known for its Spatially Coherent System technology (SCS), which is found in many of the speakers produced by the company and is the culmination of many years research into the reproduction of the original timbre and dynamic range across a stable and full soundstage. This is realised throughout the range of spherical co-axial point source drive units, most famously demonstrated in the flagship La Sphere. The iO2 conforms to all the principles of SCS.
Its 16cm spherical enclosure is attached to a wooden stand finished in wild cherry, mounted on a metal base for stable positioning at the optimum height. An alternative multi-function base enables shelf or wall mounting, with the sphere attached to the base via a system of magnets, which allow it to be swivelled in any direction. A custom installation in-ceiling variant is also available, making the positional possibilities almost endless. All variants of the iO2 are available in the limited edition piano black finish.
Providing the low frequency response, the Santorin 25 subwoofer utilises a 25cm drive unit and 250 watt amplifier module, reaching down to 34Hz. Fully adjustable phase and crossover frequencies enable perfect matching with the iO2 satellites and the piano black finish ensures aesthetic compatibility. For those wishing to further augment the low frequency performance of their 2.1 or 5.1 system, the advanced Santorin 30 subwoofer may be partnered with the iO2 to provide a 22Hz - 22kHz system. With its 30cm drive unit honeycomb drive unit derived from the unit in La Sphere speaker and digital in-room performance adjustment, the Santorin 30 brings real high-end performance to the aesthetically stunning iO2s.
Sylvain Quainon, UK sales manager, said of the new finish, "The already beautiful iO2 speakers have really come into their own in the piano black finish. We are delighted to be able to bring this new look to the market with no price premium, to enable the style conscious audiophile to benefit from the iO2's outstanding music and movie reproduction while at the same time making a design statement in their listening room." He added, "The production run is strictly limited so people are advised to get their orders in quickly with their local Cabasse retailer."
For more information, visit cabasse.com.