Jewellery Quarter a perfect location for first-time buyers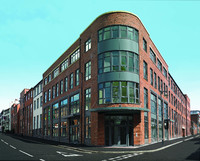 First-time buyers who think that they can't afford their dream home in Birmingham are being offered a solution by local housebuilder Morris Homes.
According to new research, high on the wish list for first-time buyers when looking for a home is a great location, good local amenities and access to open space.
With many first-time buyers struggling to save the deposit needed to bag their ideal home, Morris offers the Government-led FirstBuy scheme on its stylish city centre apartments at The Quarter development on Warstone Lane.
Using the scheme, first-time buyers are able to purchase a property for 80 per cent of its market value. This means househunters need a much smaller deposit and will benefit from lower mortgage repayments.
Cindy Vials, regional sales director for Morris, said: "FirstBuy is a cost-effective way for househunters who want an easy commute and a stylish apartment in a prominent area to get on the property ladder."
Also high on the list for first-time househunters is a high quality property with good links to public transport, and Morris' elegant city centre apartments tick all these boxes.
The development is in the historic Jewellery Quarter and is just a 15 minute walk from the heart of Birmingham. These prestigious homes are perfect for the first-time buyer that doesn't want to compromise when purchasing a property.
Cindy added: "The Quarter is an exclusive development within easy reach of Birmingham city centre, and with a nearby train station and an array of bars, restaurants and galleries on the doorstep it is ideal for buyers who want to be part of a bustling community.
"Unlike many city centre developments, The Quarter offers a relaxing oasis with its beautifully landscaped courtyard that features a communal terrace and timber seating."
Morris currently has a selection of one bed apartments available at The Quarter priced from £99,950 under the FirstBuy scheme. Househunters can now take advantage of longer opening times on Thursdays, when the show homes will be open for viewings until 8pm.
For more information on the properties and schemes available at The Quarter visit the sales office at 100 Warstone Lane, Birmingham, B18 6NR (open daily 10.30am-5.30pm). Alternatively, visit thequarterbirmingham.co.uk.