Stress relieving Watsu Water Massage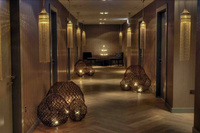 For the 20th consecutive year April has been designated Stress Awareness Month and stress levels are at an all time high - with this in mind 5* Blythswood Square, recently awarded AA Scottish Hotel of the Year has introduced a Watsu Water Massage treatment, with the power to reduce stress in minutes.
Watsu means "water –shiatsu" and the treatment is a unique 'one to one' experience combining Shiatsu pressure points with gentle stretches and the absence of gravity. Using water as a medium relaxes, supports and nurtures body and mind. The mobility and freedom of movement in a Watsu Water Massage treatment can create a trance like state of deep state relaxation which can help unlock stored stress and tension
Many people say that a Watsu Water Massage is the most relaxing experience they have ever had! Imagine a calm, warm environment where deep physical and mental relaxation is achieved within minutes.
A Watsu Water Massage can also be beneficial in treating a variety of conditions. It can relieve aches and pains, reduce fatigue, relax muscle tension, ease stress, boost energy levels, improve circulation, improve body tone, promote deep breathing, harmonise sleep patterns and also improve the range of joint movements.
Blythswood Square Watsu Water Massage costs £80 for 60 minutes
Blythswood Square Day Guest Watsu – includes your treatment and access to the Blythswood Square Thermal Experience and costs £100
The Spa at Blythswood Square covers 10,000 square feet and offers the exclusive Blythswood Thermal Experience – a seven stage journey of alternating temperature experiences to soothe, relax and detoxify the body prior to spa treatments or as a restorative therapy and the UK's first indigenous Scottish treatments designed in conjunction with luxury organic skincare house, ila.
The Spa features nine spacious and tranquil treatment rooms including a double suite where guests can enjoy a full range of face, body and holistic treatments, a decadent Dark Pool where guests can relax in warm waters, a Rhassoul, a choice of wet and dry relaxation rooms and a spa lounge where guests can peruse the spa menu and choose from an array of beautifully presented tapas dishes.
Blythswood Square is situated in the heart of Glasgow on one of the city's green spaces. The hotel has 100 bedrooms including four spacious suites and a top floor penthouse. It also has a restaurant, bars, a private screening room and event facilities. Blythswood Square is one of Scotland's most environmentally-friendly hotels through the incorporation of renewable energy technologies to achieve reduced carbon emissions.
For further information, visit blythswoodsquare.com.