Birth of new baby brings many happy returns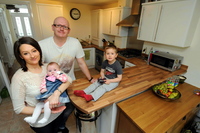 A family from County Durham have returned to their roots after years of living away from the area, to bring up their new baby.
Chris Scott 33, his wife, Christine, and their son William three, recently moved back to the North East after living in Mansfield, Nottinghamshire for the past five years. And after just two weeks of moving into their new home at Miller Homes' The Meadows development in County Durham, Christine gave birth to the couple's second child, Grace.
Proud father Chris who works as a business development manager at Durham-based C H Jones Ltd said: "We had only just finished unpacking boxes after the big move and within two weeks Grace arrived!
"We moved to Mansfield because that is where Christine is originally from but our hearts always belonged in County Durham. When Christine found out she was pregnant with Grace we quickly decided that we wanted to bring both of the children up in Durham rather than staying in Mansfield, as the area is much more suited to family life."
Chris found his perfect family home at The Meadows development on the Miller Homes' website, and later visited the location to have a look around.
Chris continued: "I decided there and then that this house was the one for me. The property offered a great combination of practical living space and places to relax; it's near local amenities, good schools, and excellent transport links and of course, beautiful Durham City.
"The only issue was that we were finding it difficult to sell our property back in Mansfield. Again Miller Homes took this burden away when they said we could sell our home using their Home Exchange scheme and within days we were ready to pack up and move."
Chris and Christine moved using Miller Homes' Home Exchange scheme where people can swap their current home for one of Miller's selected plots, regardless of whether they are looking to upsize, downsize or swap like-for-like – no differentials required.
The scheme offers a cash buyer for your property and also eliminates advertising costs and estate agents' fees. Once Miller Homes confirms that a property qualifies for Home Exchange, it could make an offer on your home within seven days and once a price has been agreed and a new Miller Home to move to has been chosen, the transaction can move quickly.
Chris continued: "There isn't a thing about our new home that we don't like. It has four bedrooms and a study, which is ample for a young family. The children's bedrooms and bathrooms are on the top floor, which gives us our own space to relax - a welcome retreat with a three-year-old toddler and a three-month-old baby all under one roof!"
Three, four and five bedroom properties are available at The Meadows development with prices starting from £194,995 for a three-bedroom home.
For further information on The Meadows visit the on-site sales centre open Thursday to Sunday, 10.30am - 5.30pm and Monday 12.30pm - 5.30pm or visit millerhomes.co.uk.