Fabulous florals from Jason natural beauty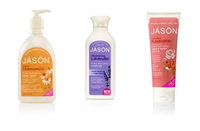 Flowers in bloom are one of the simple pleasures that Spring time brings. Since 1982 people have flocked to The Royal Horticultural Society's annual flower show, and now The Chelsea Flower Show attracts 157,000 visitors a year. With the 2012 show opening next month, what is it about flowers that keep us falling in love year after year?
For hundreds of years, beneficial properties found in plants and flowers have been used in alternative medicine, wellbeing and beauty. Natural pioneers since 1959, Jason have harnessed the powers of plant extracts from day one and continue to ensure they create wholesome, naturally effective products. Here are some floral favourites that could leave you reaching for your garden gloves!
Jason's Volumizing Lavender Shampoo & Conditioner uses lavender's powerful properties, mixed with sweet almond extract to weightlessly strengthen and fortify your hair while wheat protein amino acids add all-day volume.

As well as smelling divine, Jason's Invigorating Rosewater Hand & Body Lotion uses rosewater to tone and purify, while natural aloe vera gel and sunflower oil refresh and nourish dry, over-stressed skin. The perfect addition to any beauty regime, be warned, the smell is truly addictive!
Renowned for its calming effects, Camomile is often used to combat stress, anxiety and depression. Jason's Relaxing Chamomile Hand Soap, uses natural botanicals to gently wash away daily residue while chamomile and wheat germ oil calm and moisturise.
Celebrity fans of Jason include actresses Reese Witherspoon and Bryce Dallas Howard in addition to fashion designer, Stella McCartney.
For further information on Jason natural care products visit jasonnaturalcare.co.uk.