Beijing's new high-tech Summer Palace preservation center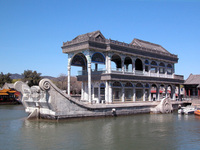 On Thursday April 12, 2012, Beijing's Summer Palace inaugurated the Summer Palace Monitoring Center for World Cultural Heritage. This center will lead the way in protecting the site's cultural heritage through the use of real-time monitoring technologies, such as 3D scanning and mapping of ancient buildings.
As China's most historic garden, the Summer Palace is an emblem of the country's dynastic legacy. Built during the Qing dynasty, the garden was the favorite summer resort of the late emperors and the notorious empress Cixi. A maze of lakes, hills, gardens, and palaces, this UNESCO World Heritage Site is one of the most beautiful sites in the city.
A must-see for any visitor to Beijing, the Summer Palace can be visited in a morning or afternoon during a city tour. The China Guide can arrange visits to the Summer Palace, as well as boat rides from the city into the garden. For more information, visit thechinaguide.com.