Atropos giving an alternative twist to traditional swimwear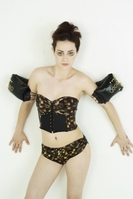 A stunnign range of swimwear has been added for sale at Fashion Killerz by new designer ATROPOS. With a range for men as well as women, the designs are distinctly alternative.
"My design influences come from both rock and metal scene as well as different subcultures (mostly Japanese) which are a big passion of mine," says ATROPOS designer, Iga Zwierzycka.
Explaining her background, she added: "After trying to follow the "typical" route as a womenswear designer, my alternative preferences came back out with double strength, and ATROPOS was born."
ATROPOS gives a new twist to swimwear with the rustle and shimmer of heavy metals and timeless classic rock style. It will make you stand out this summer whether you're going for sexy or just simply different look. The Spring/Summer 2012 collection introduces studs and chains - the most classic of classics in the rock arena - to this commonly plain area of fashion.
If it's alternative swimwear you are after, you are after ATROPOS swimwear!
Visit fashionkillerz.com to see the new swimwear from Atropos, along with a range of clothing and fashion accessories by independent designers. Fashion Killerz - the fashionable place to buy designer style.