New Lake District nostagia-packed tour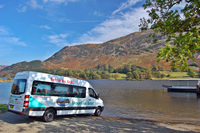 A new Lake District tour, operated by the area's number one tour specialist, Mountain Goat, is offering passengers a blend of nostalgia, childhood adventure, scenery, literary connectivity and even a bar of Kendal Mint Cake!
The 2012 'Swallows and Amazons' tour, launched to coincide with Mountain Goat's 40th anniversary, is based around the novel of the same name, by author Arthur Ransome, set in the Lake District in 1929. In the same way as the novel, the tour bases its action around the lakes of Windermere and Coniston, (on and around which the novel's two fictional families of children played), but also explores some locations associated with the non-fictional life of Ransome.
Excitement starts from the off, when passengers learn that they will be picked up by the 16-seater, luxury mini-bus in Rio (Windermere to non-Ransome aficionados) and Bowness. With the car left behind, or parked up for the day, the Mountain Goat tour takes away the hassle of driving and the associated petrol costs, allowing everyone to relax on an initial climb over Ghyll Head, to Gummers How, passing Ludderburn, where Ransome lived and the Mason's Arms – his favourite watering-hole.
Stepping back in time, passengers then board the Lakeside and Haverthwaite Railway at Haverthwaite, for a nostalgia-filled train journey to Lakeside, where they can enjoy wonderful views of Lake Windermere from its southern shore. Here, they are met by the Mountain Goat mini-bus and taken to Coniston for their lunch stop.
The afternoon tour begins with an idyllic cruise on beautiful Coniston Water with the Coniston Launch. This takes passengers from Coniston Pier to Brantwood, former home of John Ruskin, where their bus awaits. They are then treated to a drive down Coniston's eastern shore, with a final stop at the church where Ransome is buried, in Rusland. A return trip to Windermere/Bowness concludes the full day of adventure.
The price of this trip is £38 for an adult, £36.60 for a senior citizen and £26.00 for a child, inclusive of both train ride and cruise, making it a real recession-buster of a day out. Passengers can either bring their own packed lunch, or buy something in one of the cafes in Coniston, finishing their lunch off with a nibble of their free Kendal Mint Cake perhaps!
The tour runs on both Tuesdays and Saturdays, leaving at 10am and arriving back at around 5pm.
Mountain Goat believes its new tour encapsulates the type of nostalgic experience that many staycationers are demanding this Jubilee year, as well as allowing grandparents and parents to give their children a taste of what childhood used to be like and how family outings used to be.
Mountain Goat has arrangements with both the Lindeth Howe Country House Hotel (lindeth-howe.co.uk) for those wishing to make a tour an integral part of a Lake District stay. Head to mountain-goat.com for more information.