Grow more with a Growhouse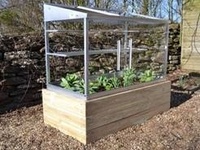 If you want all the functionality of a greenhouse but don't want to make a huge investment in money - or space, why not opt for a 'Growhouse' instead?
Designed to stand on a patio, gravel or soil, or even in conjunction with a growbag, these full and half size Growhouses from Access are ideal for use all year round.
In spring bring on plants and seedlings, grow healthy tomatoes and peppers during summer and even cultivate salad and new potatoes to complement turkey sandwiches over Christmas.
Growhouses offer the safest environment for your growing plants. Sliding doors and top glass provide extremely versatile ventilation options and, because they are built from architectural aluminium and toughened safety glass (five times stronger than horticultural glass) the panes will withstand the harshest of weathers.
The standard Growhouse includes two wide shelves and two narrow shelves for pots and seed trays which can also be easily removed or folded flat to accommodate taller plants like tomatoes. The smaller, half-height version includes one wide and one narrow seed tray shelf ; this Growhouse can be easily moved around the garden, or choose to use it with the NEW aluminium table to reduce bending, or the NEW sustainably sourced, wooden raised bed for soil grown crops.
For more information on the wide range of outdoor growing products available from Access visit garden-products.co.uk.