Enjoy Queen Elizabeth II Diamond Jubilee in style at St Ermin's Hotel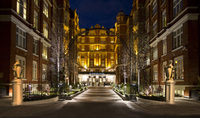 Just 5 minutes walk from Buckingham Palace and The Mall, so ideally placed for celebrations of the Diamond Jubilee, the newly transformed, four star deluxe St Ermin's Hotel in St James's Park is offering a majestic three night Jubilee stay including full breakfast this Summer.
The Queen Elizabeth II package includes a tour of Westminster Abbey (scene of the coronation of Queen Elizabeth II on Tuesday, 2nd June 1953); a royal afternoon QETea devised by Executive Chef, Hus Vedat, in the hotel's library; a regal picnic - best taken in St James's Park with a view of the Palace - and a welcome pack of flags, hats and royal jubilee souvenirs offered at £999 plus VAT for two sharing a deluxe room. Suites are available for an additional £300.
The St Ermin's Hotel is also just 5 minutes walk from the River Thames and Westminster Bridge making it an ideal venue for the Diamond Jubilee week-end itself, 2nd - 5th. June, and the planned Thames Pageant on the Sunday which will see the Queen on the royal barge joined by one of the largest flotillas of working boats and pleasure vessels ever assembled on the river.
Available now until August 31st 2012. For reservations, visit sterminshotel.co.uk.