M&S create vintage lingerie timeline and underwear range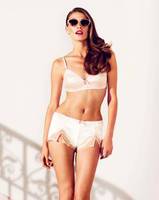 Marks & Spencer has created an interactive graphic showing the history of lingerie from the 1920s to the 1980s to demonstrate the retailer's technological advancements in undergarments throughout the years.
The easy-to-navigate graphic provides educational insight into the company archives via clickable decades (e.g. '1920s') and offers vintage photography for the public to view.
M&S has long been known as a solid destination for quality lingerie and leading technology - from control pants to push-up bras. In fact, the first M&S bra launched in 1926 and was designed for use under flapper style dresses to flatten the chest.
M&S technologists even helped to shape the Clothing Civilian Act 1941, a government regulation imposed on clothing manufacturing during the war which limited use of certain fabrics.
Other interesting facts include the changing of materials, when advanced bra sizing became mainstream, and advertising slogans adopted by the brand such as "a perfect figure guaranteed" - a promise offered with the uplift bras launched in the 1930s.
To see 'The History of Lingerie' graphic and find out more, just visit:
social.marksandspencer.com/fashion-2/ms-lingerie-through-the-decades/
To celebrate the Queens Jubilee year, the M&S lingerie design team have also taken inspiration from original 1950's designs to transform them into more wearable pieces for a new collection launching at M&S.
Consisting of four looks, the beautifully constructed collection uses silk, lace, luxurious satin and mesh combinations to emulate the glamour of the 1950s, including designs based on the original conical bra, corsetry and the big knicker shape.
Retro-loving ladies can pick up the collection in store and online from May.