Gabriel: A harmonious collection of classic wallpapers from Sandberg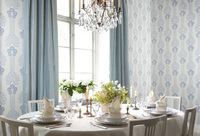 Sandberg has produced Gabriel, a comprehensive collection of classic surface printed wallpapers designed for use throughout all rooms in the home. A mixture of old and new, working in perfect harmony, Gabriel will be launched in Summer 2012.
Inspired by Swedish painter Carl Larsson's vision of the perfect cosy home, the collection contains 16 designs, some of them based on documents in the Sandberg Archive, others newly drawn by the Sandberg Studio. Each design resonates with true Sandberg style, reflecting the company's elegant colour palette and refined handwriting.
Amalfi: an evocative design, celebrating the lush lemon groves of Italy's Amalfi coast.
Andrea: A versatile, timeless design, perfect for modern renditions of 1950s settings, or as a complement to the romantic rose wallpaper, Rosanna.
Claude: This geometric motif was inspired by a trip to Vienna, and shows influences from Hundertwasser and the artist, Gustav Klimt.
Edgar: Taken from an 1880s original, this flamboyant floral damask motif is nonetheless very 'now'.
Elin: An uplifting design depicting cheerful geraniums in traditional porcelain pots.
Gabriel: An elegant diamond motif, the perfect companion for the stripe Gustav.
Gustav: A simple, but very versatile, understated stripe.
Judith: Based on a design from 1910, this is a classic Art Nouveau floral design with a contemporary twist.
Kajsa: A charming floral motif inspired by a 1930s design, in a fashionable palette of colours.
Ludvig: A stylish diamond motif drawn from an 18th century wallpaper.
Nikolaj: Nikolaj was inspired by the cranes of Lake Hornborga, and by a1000 year-old Chinese painting. In Sweden, the crane is a harbinger of spring and a bringer of light; in China, this bird symbolizes longevity.
Rita: An elegant broad stripe in a range of both traditional and contemporary shades
Rosanna: A dainty rose motif in three fresh colour combinations.
Sandra: An evocative depiction of hand-painted, intertwining, water lilies.
Sanna: An enchanting trail of fragrant sweet peas.
Sundborn: To celebrate both the opening of his new studio and New Year's Eve 1900, Swedish artist Carl Larsson painted these daffodils on the walls of the studio. He saw the strength in the modest daffodil, and used this flower as a symbol of vitality.
Managing Director, Orjan Sandberg, reflects:'The Gabriel collection has a modern poetic feel, based around everyday pleasures and comfort. It has historical links to original patterns from the late 18th Century and Art Nouveau, as well as to the home of famous Swedish painter, Carl Larsson. The colours and patterns from these periods are all permeated by elegant simplicity, which has been enhanced through the use of surface printing to achieve beautiful, living textures.'
Surface printing is a technique dating back to the early 19th Century, which gives the exquisite feeling of handmade wallpaper. In a true demonstration of skilled craftsmanship, flat colours are pressed onto the wallpaper, wet-to-wet, resulting in a slightly raised, highly tactile finish.
All Sandberg wallpapers are manufactured in the company's factory at Ulricehamn. The printing inks and pigments are water-based, non-toxic and harmless, and no detergents, plasticisers or PVC have been used in the manufacturing process.