Time to be by the sea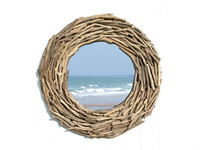 Online retailer interiors@tides has had a name change, they are now Coastal Home. It's a very exciting development for this giftware and home accessories company. The range is constantly updated so, for some seaside therapy, it's just one click, coastalhome.co.uk.
Nicky Brier the owner, has cast her net wide to find unusual and inspiring products, aiming as far as possible to search out small companies from around the British Isles. This includes glass makers from Cornwall and driftwood artists from the Mid-Wales coast. Coastal Home has everything you might expect and more with textural driftwood mirrors and lamp bases, carved wooden birds and fish, beach huts and vintage style beach signs. There are shell shaped dishes and some fabulous ceramic bowls in stunning coastal blues. To celebrate the Diamond Jubilee and Olympics there's also a range of little red/white/blue wooden boats and Union Jack wooden bunting.
Recently launched on to the site were handmade porcelain designs - tea light holders, bunting and wicker hearts with porcelain fish detail, all with pretty ribbon detail. There are picnic hampers for those precious summer days when we can grab some delicious goodies and head outdoors to sit on a rug (check out the bamboo fibre throws coastalhome.co.uk/whats-new/red-star-throw.html) and enjoy the sunshine.
Whether it is just a hint of coastal in the home, a vintage style beach sign for example, or creating the full coastal look, Coastal Home has a wide choice of home accessories for stylish contemporary living, for homes both near and far from the sea.
For more information, visit coastalhomes.co.uk.