Celebs and sporting heroes auction self-portraits for charity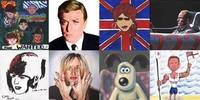 From 3 – 13 May, eBay will host an auction of specially created self-portraits by over 40 celebrities and sports legends. Amongst those who have taken part are Adele, Sir Michael Caine, Brian Eno, Brian Ferry, Felicity Kendal, Sir Geoff Hurst, Sir Stirling Moss, Jenson Button, Richard E. Grant, Michael Morpurgo, Jamie Oliver, Sir Cliff Richard, Alan Rickman and The Wanted. Proceeds from the auction will support The Prince's Foundation for Children & the Arts, an educational charity established by HRH The Prince of Wales to enable disadvantaged young people to access and engage with professional arts. The celebrity contributors join over 230,000 children and teenagers across the UK whose self-portraits were projected onto Buckingham Palace for 3 nights from 19th April.
Face Britain is the UK's largest ever mass collaborative art project developed by The Prince's Foundation for Children & the Arts. The Face Britain Patrons range from professional practising artists to celebrities and sports stars with little or no artistic training, though many have revealed a hidden talent for drawing or painting. Some of the Patrons are art school graduates who have followed alternative career paths, such as Brian Eno, Brian Ferry and Alan Rickman. Others have a natural talent and passion for portraiture, such as Fearne Cotton and Derren Brown. However, all subscribe to the message of Face Britain, that art should be an open door, beneficial to everyone.
"We are delighted with the level of response from the celebrity and sporting contributors. Their portraits are all so varied and very accomplished." Jeremy Newton CEO, Children & the Arts said. "Proceeds from the auction will help to provide access to the arts for disadvantaged children around the UK."
The collection also includes self-portraits by Olympic and Paralympic athletes, including Baroness Grey-Thompson, Dame Mary Peters and London 2012 Olympic rowers Alan Campbell, Katherine Grainger and Peter Reed.
In addition to this eBay auction, some of Britain's leading artists: including Sir Peter Blake, Quentin Blake, Kate Daudy, Angela de la Cruz, Tracey Emin, Ryan Gander, Mary McCartney, Rankin, Bob & Roberta Smith, are contributing self portraits and artworks to go under the hammer at Christie's on 9May 2012 (7.30 - 11.30pm). HRH The Prince of Wales has also donated a landscape painting to the Christie's sale.
For further information and details on how to take part in the eBay auction, visit ebay.co.uk/facebritain.
eBay Auction Details:
Date: 3 May – 13 May 2012
Web Address: ebay.co.uk/facebritain