Shake it to make it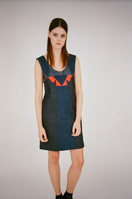 Riyka creates graphic, everyday pieces that can be worn wherever with its subtle geometric patterns, elegantly contrasted colours and wearable silhouettes - simple looks for the lady who sees no distinction between work and play. The essence of their design is quality, timelessness and functionality.
Riyka's cult following is about to expand - the word is you can't get any better wears for shaking it down on the festival fields than their SS12 collection. Whether it's Latitude, Bestival, Lovebox or further afield in Croatia Riyka SS12 is deemed dance essential.
A contemporary, casual label with Womenswear shapes borrowed from the boys. There is definitely an element of athleticism and a nod to the Olympian as pieces take a sporty spin. References for the season are inspired heavily from music and the 70's Afro-beat explosion, with native African narratives. The brand is deeply moved by the 27 beautiful wives of renowned Nigerian singer Fela Kutti with their powerful beauty, ethnic prints, raffia-work, tribal iconography, secret-coded-body-art and intricate beading that's a melting pot of old techniques and free-spirited ideas.
Captured by the magnetism of these beautiful women Riyka has created a collection of dresses, tops and shorts featuring mirrored geometric panels with striking colours of blues 'n' orange with contrasting textures of denim, linen and leather.
Creating a uniform for the youthful-minded from their east London studio Riyka designs for an intelligent, style-centric wearer romanced by the future with all its endless possibilities. Wearable, unselfconscious and deliciously versatile, this is a wanderlust wardrobe outfitting the restless fun loving soul.
For more information, visit riyka.com.