Be a part of history in the Gibraltar Diamond Jubilee Flotilla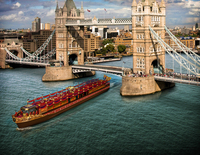 There may be over a thousand miles between them, but Gibraltar isn't going to miss out on London's Thames Diamond Jubilee Pageant and is instead bringing its own version to the Rock. Taking place on Monday 4 June, a day later than the London event, hosts Ocean Village marina are aiming for 100 participating vessels to make the event a patriotic and fitting celebration of the Queen's 60 years on the throne.
Ros Astengo, Event Organiser from Ocean Village, explains, "When we learnt that there was going to be a flotilla up the Thames on 3 June to celebrate the Queen's Diamond Jubilee we thought - why not do the same in Gibraltar? The idea was touted amongst boat owners here in Ocean Village marina and then, after a positive response, we took the proposal to the Government and the Governor's office who offered unanimous support. Aside from enthusiasm on the Rock, we expect plenty of Brits and other nationalities along the Costa to come and join in the Jubilee pomp and circumstance."

Ros continues, "Apart from the spectacle at sea, with all manner of vessels dressed in streamers and Union Jacks, we're also encouraging as much onshore support as possible with horn-tooting and flag-waving most welcome. The bars and restaurants within Ocean Village will be laying on special meals and cocktails and there'll be a live band and DJ chillout music in the evening. For crew members taking part in the flotilla, the soon-to-be-opened Champagne Bar on Leisure Island will host celebration drinks. Then, as the sun dips beneath the horizon, the beacon on top of the Rock will be lit up – a magical end to a special day."
The Flotilla will depart from Ocean Village marina at midday on Monday and sail from the western side of the runway to the eastern and then make the return journey. It is free for all vessels to participate and there is no competitive element to the event, simply a wonderful way to show our appreciation for the Queen and enjoy some of the London spirit down here in the Gibraltar sunshine. If you don't own a boat, or indeed fancy making a day of corporate hospitality for your colleagues, why not consider a yacht charter from one of Gibraltar's many licensed operators. For a list of these providers, along with a full schedule of music events, food and drink offers and the timetable for the all-important skipper's briefing - keep an eye on our FaceBook page facebook.com/JubileeFlotillaGibraltar
To register your yacht for the event fill in the form here - oceanvillage.gi/flotilla or to reserve a berth for an overnight stay at Ocean Village email pieroffice[at]oceanvillage.gi.