Jubilee beacons set to light up remote St Helena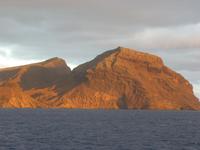 Five Jubilee beacons have set sail from the UK, to reach the remote island of St Helena in time to be lit to mark the Queen's Diamond Jubilee on 4 June. Travelling over 5,000 miles to reach the South Atlantic outpost, they must surely be the most remote beacons in the Jubilee celebrations. St Helena is currently only accessible by sea (most regularly on board the Royal Mail Ship St Helena, a five-day voyage from Cape Town), although the island's first airport is currently being constructed.
On arrival in St Helena, the five beacons will illuminate a diamond shape across the island. St Helena's beacons will form part of a network of over 2,012 Beacons lit by communities throughout the UK, Channel Islands and the Isle of Man, along with the Commonwealth and the other British Overseas Territories on Monday the 4th June. The Queen will light a National Beacon in London at approximately 22:30 BST to conclude the celebrations.
Mike Dean, Tourism Development Executive for St Helena says: "We are looking forward to welcoming the beacons and playing a part in the Queen's Jubilee celebrations. Even though we will be the most remote destination to be part of the occasion, there is a strong sense of patriotism and festive spirit as we prepare to light the beacons. We will be celebrating in style in St Helena with a 12-hour extravaganza from 10am to 10pm. Celebrations will include a parade, a village fair and much more."
The Queen's Diamond Jubilee Beacon organisers appointed Birmingham-based Bullfinch (Gas Equipment) Ltd to design and manufacture the beacons.
Lying 1,500 miles north-west of Cape Town, the undiscovered island of St Helena boasts stunning natural beauty and is steeped in history – perhaps best known as the place of Napoleon's exile.
For more information on St Helena visit sthelenatourism.com. Join the official St Helena Facebook page at: facebook.com/visit.sthelena. For further information on the beacons and the Queen's Diamond Jubilee celebrations visit: diamondjubileebeacons.co.uk.