Making Alpine mountaineering affordable to all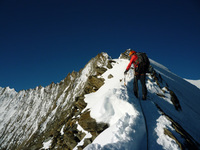 Action Outdoors, the UK partners to the French organisation UCPA, have launched their summer programme.
Adventurous activities often beyond the holiday makers budget are now a realistic opportunity. An introductory course in alpine mountaineering starts from as little as £529 and includes everything required for the week - instruction, equipment, lift passes plus all meals and accommodation. Based in Chamonix, France, this could easily be spent on the accommodation alone. The centre also offers more advanced alpinism courses including summiting Mont Blanc.
UCPA is a not for profit organisation set up by the French Government to encourage young people into the outdoors (18 - 40 years). We train our own instructors, buy all of our own equipment plus manage our own centres enabling the costs to be kept as low as possible. By sharing rooms and clearing away your tables, you enter into the UCPA spirit, something that is proving hugely popular with the British. Although not a luxurious holiday, it is a very sociable week with everything included in the price (accommodation, all food, equipment, instruction plus any other hidden costs that have a tendency to appear - i.e. lift passes, course entry fees).
Action Outdoors also offers water based activities at the following resorts. The centre at Hyeres, on the south coast, is running courses in kite surfing, sailing and windsurfing whereas Port D'Albret, just north of Biarritz offers instruction in surfing and golf.
For more information, visit action-outdoors.co.uk.