Forge USA Official Importer for 3SDM wheels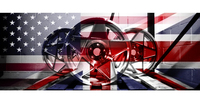 US-based fans of the iconic 3SDM wheel brand will be delighted to learn that Forge Motorsport USA has been granted sole 'Official Importer and Distributor' status from its Florida-based headquarters.

Since its explosion onto the scene just a short while ago, the unique designs and exceptional quality of the 3SDM wheel collection have captured the imagination of enthusiasts across the globe. Their highly anticipated 0.05 design is currently in production with the first bulk shipment expected to land in the US sometime in June. VW, Audi, and BMW applications will be targeted initially in both 18x8.5 and 18x9.5 sizes with more sizes and vehicle fitments to be released later in the year.

Standard color offerings will be silver with polished accents as well as a matt black finish. Custom colors will also be available be at an additional cost.

Although not yet final, pricing is expected to start around $300 per wheel with initial pre-orders to be accepted shortly.

Fully custom 3-piece versions as well as additional designs are already drafted and expected to be announced in the coming months.
For more information on Forge Motorsport, visit forgemotorsport.com.