Your work-friendly wardrobe for Spring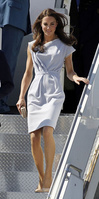 We've all been in that situation where we're running a couple of minutes late for work due to a closet crisis, so much so that some of us would gladly be given a uniform to save the hassle of having to style yourself for the working day, 5 days a week. This article is sure to reverse your wishes and have you rejoicing for the freedom of dictating your own style, so read on for ways to make your Spring wardrobe work for you.
This season's trends are all about colour, print and texture. With an amalgamation of feminine textures, bold prints, pretty pastels and bright colour, it's easy to work these styles into your work wardrobe.
On-trend work wear
If your employers have a dress code or you usually wear a suit to work, you can still use key fashion pieces with your outfit. Colour blocking is one trend which is easy to adopt, with a bold coloured jersey blazer over a neutral blouse and skirt.
Give your outfit texture by wearing a pleated skirt or a blouse embellished with lace. One lady who is flying the flag for British fashion is our Royal Princess, Kate Middleton. Kate loves to team feminine yet structured dresses with chic and elegant accessories. If we are to take a leaf out of anyone's book for modern dressing, this is the girl.
This season's pastel shades such as eucalyptus, coral or beige, are easy to mix and match with your favourite work wear. If you prefer to make a bold style statement, mix up your colours, such as bright orange with deep purple or black.
The popular patterns this season are bright geometric prints and soft feminine florals. These are easy to match with other items and can add impact or interest to a neutral or plain outfit.
If you dress more casually for work, you can use soft layering with knitwear and more playful prints and colours in your outfit. Leggings with patterns or embellished with lace create a great spring time look, worn with a soft pastel tunic. Summer midi dresses and skirts with feminine floral prints make a great addition to any wardrobe.
Accessorising your work wardrobe
An easier and cheaper way to adopt current fashion trends is with your accessories. Whether you want them to match your outfit or stand out to make a style statement, there are plenty of styles and colours to choose from.
An ideal way to break up a block of colour is by wearing a contrasting belt. A strong coloured belt will add to the impact of your outfit, whereas a neutral colour will tone it down.
Shoes are a great way to update and change the look of an outfit. Shoes such as ballet flats are available in a gorgeous mix of seasonal colours and patterns. Team coral shoes with a neutral suit or floral midi dress, for a fashion-forward summer look.
Spring and summer shoes from Jane Shilton include a stylish mixture of courts and open toed shoes, perfect for your work wardrobe. Neutral shades will go with all of this season's colours, as well as with your existing wardrobe. You can liven up a plain outfit with patterned shoes or strappy sandals and stylish loafers or flats make the ideal comfortable work wear.
If you love this season's patterns and colour, but do not want to wear it head to toe, accessorise with a beautiful handbag or statement jewellery. Bright beads are an easy way to wear bold colours, whether on a bracelet or necklace. A bright bracelet or cuff will draw attention to your hands and arms, whilst a colourful brooch will add interest to a plain top or blazer.
Zoe is a style-conscious blogger and experienced freelance writer, who has written for a variety of blogs and brands and has extensive knowledge on fashion and style. She is currently writing for costume jewellery brand pearlandbutler.co.uk.