Wheelwright launches new AEZ Antigua Wheel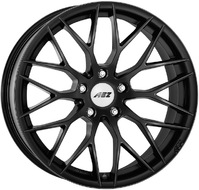 Respected wheelmeister AEZ has launched a new flagship wheel, specifically designed for the larger 5, 6, 7 and 8 series models from the BMW range.
AEZ's designers paid special attention to the larger Bavarian variants, creating a wheel design that complements the Munich manufacturer's design language perfectly, whilst being the exact size, offset and dish to endow each vehicle with a decidedly 'OEM+' flavour.
Based loosely on the timeless 'cross spoke' genre, the new Antigua offers a modern day interpretation of this popular style, with the added attraction of a deeply concaved face and ten slim spokes that run right to the very edge of the rim, to enhance the optical size of the wheel. The design of the wheel gives it little visual 'weight' in the centre, making for an elegant, balanced design that will enhance any BMW.
Two finishes are available, and both enjoy full TUV approval, Choose from either the perfect silver hues of the Antigua or the sultry satin tones of the Antigua Dark. Size wise, an impressive array of five fitments offers plenty of choice, whichever model of BMW is the intended recipient. 8.0x18", 8.5x19", 9.5x19", 8.5x20" and 9.5x20" versions are available in both colours.
Prices start at £200 For the 18" version – and thanks to Wheelwright's innovative 'Shopatron' technology, you can browse for your wheels in the comfort of your home, before having them delivered to your local dealer for mounting and fitting. What could be more convenient than that? Visit wheelwright.co.uk for more details.