Wheelwright releases new wheel designs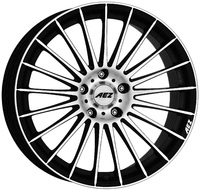 Kent based Wheelwright seems to have turned things up to '11' ready for the summer show season with yet more brand new designs from its respected AEZ and Dezent ranges.
These superb new designs are aimed at a wide variety of vehicles, with diameters, widths and fitments covering almost every car you can think of, from prestige and sports marques, through to tuner and mainstream manufacturers.
The first wheel is the AEZ Valencia. Proving that a classically designed multi-spoke will never be out of fashion, the Valencia features an attractive 'pinched' design at the end of each spoke, combined with an beautifully sculpted inner bowl around the bolt holes to create a timeless design that will suit almost any car. Available in either Premium Silver or Black with a polished face, the Valencia is a true 'OEM+' design.
Size wise, Choose from either 7x16, 7x17, 8x17, 8x18, 8.5x19, 9.5x19, 8.5x20, 9x20, allowing for the perfect fitment to be obtained, and the popular 'staggered' look to be achieved in 17" and 19" sizes. Prices start from £135 + VAT.
The Dezent RE also follows another classic genre, being an elegant 5 spoke. This too has a choice of colour options; silver for those looking for a more 'factory fresh' demeanour, or moody satin black for those that aren't. Not only does this wheel represent excellent value, starting at just £90 +VAT, but it also comes in no less than 12 different sizes, ranging from 5.5x14" right up to 8x19".
Both designs are fully TUV approved and are finished to Wheelwright's own stringent quality control procedures. Best of all, thanks to Wheelwright's innovative 'Shopatron' technology, you can browse for your wheels in the comfort of your home, before having them delivered to your local dealer for mounting and fitting. What could be more convenient than that? Visit wheelwright.co.uk for more details.