Fearnley launches jersey for A/W 2012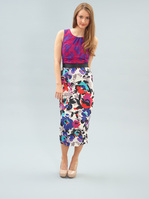 Kate Fearnley has announced her forthcoming Autumn / Winter collection for 2012, which features brand new jersey wear pieces.
The jersey pieces will be at a lower price point than Kate's current collections, and the intention is to extend her quirky and sophisticated occasion wear to the more everyday market.
The brand is already hugely popular with wedding guests and ladies going to the races, and the jersey wear will offer ladies something a bit different for their more frequent excursions, such as special nights out. These forgiving and flattering styles feature the highest quality jersey adorned with a variety of textures and embellishments, which complement the more formal pieces in the collection beautifully, and can be dressed up or down to suit the event.
"I am so pleased with the new collection" says Fearnley. "I have been wanting to bring out a jersey range for years, and am delighted with the response so far. Ladies deserve to feel special every day of the year, and this collection offers something for everyone, from the more formal occasion wear for which I am currently known, to pieces which would not be out of place at an office party."
The collection will be available from late August via the website katefearnleyboutique.co.uk and via wholesale stockists throughout the UK and Ireland.