Curlers, pouts and pampering - Spa in the City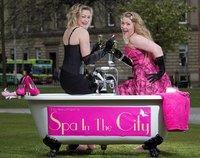 Spa in the City, Edinburgh's best and biggest free beauty event, is set to return to St Andrew Square this month for a stylish celebration of vintage beauty and an expansion into the city's Rose Street - both planned to mark the event's fifth consecutive year.
This hugely popular beauty bonanza will take place on Saturday 26th and Sunday 27th of May (9.30am – 4pm) and promises a glamorous weekend of urban pampering and preening, all entirely free of charge and courtesy of an impressive range of shops and beauty brands based in the heart of the Edinburgh's bustling city centre.
Spa in the City allows visitors to discover some the Capital's best beauty and style secrets in the majestic surroundings of Edinburgh's St Andrew Square. It has been unveiled that this year's mix of free makeovers, treatments and treats will be delivered by the Balmoral Hotel, Boots, Clarins, Hanover Health Foods, Harvey Nichols, Jenners, John Lewis, Lush, Origins, Superdrug and Virgin Active.
Highlights are set to include a debut appearance from the UK national make-up artist 'Viktor' from Harvey Nichols' specialist 'Cover FX' brand, a fun vintage makeover marquee from iconic British beauty brand Boots No 7 and retro hairstyling from Regis at Jenners…alongside a fantastic programme of massages, perfume masterclasses, manicures and much more.
For the first time this year, the event will stretch from its home in St Andrew Square to the buzzing shopping precinct of Rose Street, where visitors can enjoy extra activities and entertainment at a series of marquees in place for the weekend.
The 2012 vintage theme, inspired by the 1930s and '40s trends currently flooding the market in fashion and cinema, will run throughout the weekend's treatments, styling and entertainment bringing extra appeal for guests at the event.
Adding to the fun and festivities on the day will be a range of entertainments and eateries including a swing bop band, burlesque-inspired performers, a cocktail master-class from the Hard Rock Café, cupcake tasters from the glamorous local bakers, 'Bibi's', and sampling from the Filling Station.
A selection of the city's retailers will also be offering treats in-store, such as Crabtree and Evelyn, Body Shop and Shuropody.
Spa in the City is hosted by Essential Edinburgh, the city's Central Business Improvement District, which aims to ensure the city centre excels in all aspects of business and leisure.
Andy Neal, Chief Executive of Essential Edinburgh, comments: 'This year's Spa in the City is shaping up to be a fantastic weekend for visitors to the city centre, and a real treat for anyone who feels like a fun day of vintage-themed glamour and pampering with their friends – all free of charge. We have some excellent new additions to the Spa programme, not least an extension from our spectacular home in St Andrew Square to Rose Street, meaning that more people can take part and enjoy the activities. We're very much looking forward to welcoming guests to Edinburgh over our Spa weekend and to showcasing the best of the city's beauty operators at the event.
Spa in the City, Saturday 25th / Sunday 26th May, St Andrew Square, Edinburgh
Head to essentialedinburgh.co.uk / facebook.com/edsitc for more information.
Registration opens at 9.30am on St Andrew Square on both days and treatments will be offered on a first come first served basis. Exclusive goody bags and free prize draws will also be available over the weekend (whilst stocks last).