Shared ownership solves buying vs renting debate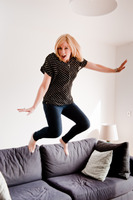 Family Mosaic highlights; buying vs renting a property is an age old debate for many tenants across the UK with varying reports favouring one over the other. There is one solution however which combines the best of both worlds: shared ownership.
Contrary to popular belief, shared ownership is not about physically sharing a property with anyone, nor are the properties just for key workers. Plus to dispel any other concerns, the majority of properties are brand new and in great locations!
Lauren Nicholson, Head of Marketing at Family Mosaic explains: "Shared ownership is in fact an opportunity for those earning less than £60,000 a year to get onto the property ladder at an affordable price. You start by buying as little as 35% of the full value of the property, and you can increase your share at any time. This means that you buy the share of your home that you can afford at the time, and pay a subsidised rent on the remaining share of the property."
For example at the Brooklyn Apartments on Blackheath Road in Greenwich, Family Mosaic is providing a collection of brand new one and two bedroom apartments from £68,250 for a 35% share based on the full market value of £195,000. This would cost purchasers around £738.75 a month in total, thus enabling those with a minimum single income of £21,285 or a joint income of £24,210, with the chance to afford a brand new property in an excellent location.
Shared ownership is becoming a more prevalent buying solution for city workers like Olivia Howitt, 35 who purchased a top-floor, two-bedroom apartment at Family Mosaic's Saffron House development in Hackney.
Olivia purchased a 35% share of the £285,000 flat for £99,750. The typical outgoings on Olivia's new home, including mortgage costs, rent on the 65% balance and service charges, are £861.46 per month. Olivia comments "I had been looking for a part-buy, part-rent property since 2007 but never found one in an area I liked. Buying at Saffron House is much, much cheaper than renting: Family Mosaic's scheme is extremely cost-efficient."
Not only are Olivia's monthly outgoings lower than in the rental market, but Family Mosaic's thoughtful extras have also saved her money. "The hob, oven, hood, washer-dryer and fridge-freezer that are included have been a massive help. And I didn't realise until I moved in that the water is heated by solar panels on the roof, saving me even more. It's a very nice bonus."
All Family Mosaic properties are finished to an excellent specification. Individually designed to suit the specific property and location, standard features include fully fitted kitchens with integrated appliances and contemporary bathrooms complete with high quality fittings, ceramic wall and floor tiling and luxury suites. Most properties also include carpeting and/or engineered oak flooring throughout the property.
For further information about Family Mosaic's current portfolio of properties, visit familymosaicsales.co.uk.