Sir Tom creates fashion waves on the High Street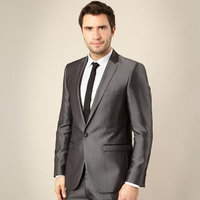 Great news for struggling TV talent show The Voice, elderly judge Sir Tom Jones has sparked a fashion revival in men over the age of sixty.
The obvious on screen elegance of Sir Tom, who will be seventy two next month, has finally inspired fellow British pensioners to spruce up their dowdy image, new sales figures have revealed.
Said Lizzie Singleton, spokesperson for Debenhams; "Sir Tom is persuading the nation's elderly men to throw away their pipe and slippers and follow his advice to become sex bombs".
Sales of slim fit, sharply tailored suits similar like the singer wears have rocketed since Sir Tom began to appear on the BBC programme, says fashion store Debenhams.
The retailer has reported a 20% increase in their fashion forward, slim cut brand; Red Line. Sales of the range are peaking online during the times that 'The Voice' airs as people log on to Debenhams.com as they watch the Welsh crooner.
The top three best selling suits online have been from the Red Line collection with the number one suit being a silver grey style, very similar to Tom' favourite.
Lizzie Singleton continues; "We're seeing the emergence of Darby Dazzle, older men who still take pride in their appearance, and want to look good for the women in their lives."
Until now, older men have all tended to buy the same style of clothing after retirement, checked shirts, beige nylon waist length trousers and white soft soled shoes or trainers.
White caps, a dark suit and black tie for funerals, grey socks and huge numbers of Y-front pants are crammed into elderly male wardrobes all over the country.
Said Debenhams Lizzie Singleton: "They've tended to take their fashion tips from the bowls club rather than the cat walk."
"Even previously trendy men seem to adopt this slightly bizarre 'God's Waiting Room' dress code after they retire from work."
"However, Sir Tom has demonstrated how age is no barrier to looking fantastic. Women still adore him and it is this fact which we believe has persuaded so many older men to finally discover a new interest in fashion."
"All men want to be attractive to women as Tom Jones, no matter how old they become – it's not unusual."
Red Line suits are available nationwide and online at Debenhams.com, suit prices start at £120.