Passenger tickets available for Gibraltar Diamond Jubilee Flotilla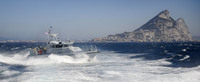 With Britain in the grips of Jubilee fever, Gibraltar refuses to be left out and is gearing up for its spectacular Diamond Jubilee Flotilla which will depart from Ocean Village Marina at midday on Monday 4 June. Various vessels are extending invites to hop onboard and join in the fun – here's how you can be part of the pageant.

Ros Astengo, Event Organiser from Ocean Village, explains, "The number of participants is shooting up as we count down to the Gibraltar Diamond Jubilee Flotilla and we have a real mixed bag of boats signed up from local waters and further into the Mediterranean. Out front we are hoping to have a Royal Navy past patrol boat leading the way followed by vessels from the Port Authority, Royal Gibraltar Police Marine Section, the Gibraltar Defence Police and Customs. Meanwhile, pleasure, leisure and working boats of all sizes from five metres to 24 metres will be selling passenger tickets so those of us without a ship to sail can join in. I can't think of a better way to celebrate the Jubilee and, knowing how Gibraltar bursts with patriotic pride, it's bound to be a day full of fun and flag waving."
Allabroad Sailing Academy is inviting up to ten passengers onboard fully coded charter motoryacht "Durban Lady" for the reasonable sum of £50 per person including drinks and snacks. Another fully coded boat, 54ft Jeanneau sailing yacht "Ocean Odyssey", can take a maximum of 12 and is charging £80 a head to include a special O'Reilly's breakfast onshore and champagne and beer onboard. For something a little different, choose from one of two working harbour boats each taking up to 12 guests with a large uncovered area to the rear to soak up the views – prices here are £40 per person including beer, wine and soft drinks and you can even bring your own picnic. Or try a Fairline Squadron 58 coded for up to ten people at £25 apiece. A final option is a seat on gentleman's motoryacht "Brixham Belle" operated by Dolphin World. Whichever you choose, grab your tickets here: oceanvillage.gi/flotilla/flotilla-passengers.
Minister for Culture and Chairman of Gibraltar's Diamond Jubilee Committee, Hon Steven Linares MP, will be kicking off proceedings from Ocean Village Marina's Leisure Island with a rousing speech at 11.30am before being whisked off by boat to the start line of the Flotilla. Your Gibraltar TV (YGTV) will have roving reporters on sea and land to cover all the action streaming it onto their website as the day unfolds for worldwide consumption. Meanwhile there's plenty of shore-side activity to keep all and every entertained.
Expect bouncy castles, face painting and a vibrant after party at Ocean Village Marina for all the flotilla crew, as well as special Jubilee meals and cocktails from Ipanema, Pizza Express, Savannah Lounge and O'Reilly's. "The Queen" herself will also make an appearance (of sorts) and attend English Tea along the Marina promenade with freshly baked scones and cream cakes from The Silver Kettle's Tea Room followed by very British strawberries and cream washed down, of course, by a cup of Rosie Lee. "Her Majesty" will don a fine diamond tiara and mingle with the public to show her appreciation.
Local skipper, Derek Pennington, says of the Gibraltar Diamond Jubilee Flotilla celebrations, "A monarch celebrating a diamond jubilee is an event that none of us alive today will ever see again. We should all take our hats off to Ocean Village for organising a unique flotilla procession around the Rock to commemorate this once-in-a-lifetime occasion. Patriotism is alive and well in Gibraltar - and it is a great way to show it. This event is good for Gibraltar in that it sends a clear message to the world where we stand. Let the tourists come and experience our uniqueness."
The Flotilla, sponsored by Gib Oil, Lloyds TSB International and Allabroad Sailing Academy, will depart from Ocean Village Marina and sail from the western side of the runway to the eastern and then make the return journey. It is free for all vessels to participate and there is no competitive element to the event, simply a wonderful way to show appreciation for the Queen and enjoy some of the London spirit down here in the Gibraltar sunshine. To register your yacht for the event fill in the form here – oceanvillage.gi/flotilla or to reserve a berth for an overnight stay at Ocean Village email pieroffice[at]oceanvillage.gi.