Intrepid invites holidaymakers to enjoy a 'little bit of adventure'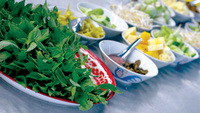 Cookery schools in Thailand, beach breaks in Zanzibar and safaris in Tanzania all feature in Intrepid Travel's new Short Break Adventures brochure, which offers holidaymakers 'a little bit of adventure' on trips lasting two to five days.
The adventure travel specialist's range of over 100 short breaks are sold without flights, which means they can be taken as an add-on to a longer holiday, combined to create a tailor-made holiday, or taken as a short break in their own right.
For a little bit of culture, the Highlights of India break explores the sights, smells, sounds and delights of Old Delhi, the beautiful Taj Mahal and stunning pink palaces of Jaipur, and includes time to catch a Bollywood film, taste local dishes and shop at vibrant markets.
For a little bit of relaxation, the Zanzibar Beach Break offers a chilled out menu of soaking up the sun on palm-fringed beaches, savouring the smells of the island's exotic spices, and swimming in crystal-clear waters.
For a little bit of history, the Petra short break explores the rose-hued temples, tombs, amphitheatres and monasteries of the ancient city of Petra, a UNESCO World Heritage Site which was rediscovered 200 years ago.
For a little bit of wildlife, the Ngorongoro Lodge Safari gives the chance to embark on game safaris across the Ngorongoro Crater floor to search out Africa's Big Five and mingle with locals in Tanzanian markets and villages.
For a little bit of food, the Chiang Mai Cookery School includes a tour of a local food market to learn about a bevy of fragrant ingredients followed by time in the kitchen learning how to master a number of Thai favourites.
To launch its new Short Break Adventures brochure, Intrepid Travel is running a 'buy one, get one half price' deal when two people book during June and travel by 15 December. Solo travellers who book during June can get 30 per cent off their second short break.

For more information, visit intrepidtravel.com.