Couple delighted with Downham Market property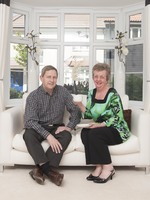 The popular easymover incentive allowed the Spratts to make a stress-free move to Windmill Chase, Taylor Wimpey's development of new homes for sale in Downham Market, Norfolk.
Changing jobs meant Norfolk property-seekers Sam and Lorna Spratt were placed in the potentially stressful situation of needing to relocate 150 miles across the country – so they were keen to make their move as fast and straightforward as possible.
After a quick online search, the couple were on their way to Taylor Wimpey's Windmill Chase development of new houses in Downham Market, where they discovered a three-bedroom townhouse ideally suited to their requirements.
What's more, they were delighted to learn that the leading housebuilder could sell their old home for them through the fantastic easymover scheme – giving them the chance to enjoy a speedy and stress-free move to the development of houses for sale in Downham Market.
Under easymover, Sam (58) and Lorna (57) were able to let Taylor Wimpey East Anglia take control of their move, with the leading housebuilder finding a buyer for their existing property in a matter of days – and even covering the cost of the estate agents' fees.
"The easymover scheme was amazing – Taylor Wimpey managed our move and was able to sell our old house in Andover before the estate agents even had their signs up," says Sam, a Ministry of Defence employee. "And it was only 12 hours from receiving our first, tentative offer until we received confirmation that the deal would take place.
"We thought easymover would be a great way of helping us to relocate to a property in Downham Market – but we had no idea it would be this good."
The location of their new home was a central consideration for the couple when picking where to live, while the spacious and well thought-out design of the property they chose at Windmill Chase was perfect for their needs.
"Our first impressions of Windmill Chase were very good – it was easy to imagine living there and the location was just the right distance from work, plus we have grandchildren living locally," Sam adds.
"Lorna and I fell in love with the house straight away. The fact that there is a kitchen and a separate dining room on the ground floor with the lounge located on the first floor really appealed to us. Now that we have moved in, it feels like we can escape upstairs to our own quiet and secluded space.
"And we have found some lovely additional benefits to our new home – the wildlife is fantastic. There are dozens of birds living in the trees around our house and we are getting accustomed to the deer that come and graze in front of the house. They are a real joy to watch!"
Three-bedroom houses are available from just £154,995 at Beech House, the exclusive final phase of Windmill Chase, while four-bedroom detached homes are priced from only £172,995.
Easymover is just one of the helpful schemes available for homeowners to make choosing a property at the development easier and more affordable.
Alternatively, under the PX Plus scheme would-be movers can secure their ideal Beech House home and be assured of receiving a guaranteed price from Taylor Wimpey for their existing property, based on the average on independent valuations, allowing them to side-step the worries and pitfalls of the property market.
In the meantime, their current home will be marketed with two estate agents for up to six weeks in an attempt to achieve the maximum price – safe in the knowledge that they already have a buyer in Taylor Wimpey after that period if it doesn't sell.
Incentives can be tailored to customers' individual circumstances and are subject to availability, with full details available from the Sales Executive.
Perfectly placed on the edge of Downham Market, yet within easy walking distance of the town centre and train station, Windmill Chase takes its name from the historic Denver Windmill, restored recently to mill flour for locally produced bread.
The town offers a wide selection of high street shops, supermarkets, specialist stores and a twice-weekly market in addition to a leisure centre with swimming pool and sports hall, two parks, tennis courts, squash courts and a golf course.
Commuters will appreciate that Downham Market railway station is only a quarter of a mile from the development for convenient links to London King's Cross as well as Cambridge and Ely.
For days out, the flowers and birdlife of Welney nature reserve are close by, and Downham Market is within 26 miles of the beautiful sandy beaches of Hunstanton and the North Norfolk coastline.
For further information, visit taylorwimpey.co.uk.