Poppy powered eco fashion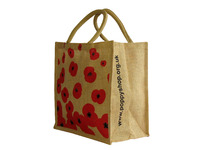 They've been spotted on the arms of celebrities up and down the country, from Sienna Miller and Denise Van Outen to the stars of The Only Way Is Essex and new pop sensations Little Mix, and designer Jute Bags are set to be an eco fashion success this summer.
The Royal British Legion's jute bag offering is now available and not only makes a fashionable accessory for your arm, whether nipping to the shops or carrying your picnic to the beach, but also helps show your support for our Armed Forces families, with all proceeds going directly to the charity to help their important work providing care and support to all members of the British Armed Forces, past and present, and their families.
The bags are available online now from the Poppy Shop, poppyshop.org, for just £2.60.