Diamond Jubilee sparks shopping frenzy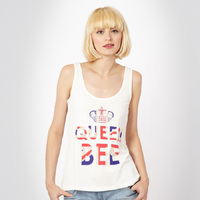 Record numbers of patriotic products are flying off the shelves in the run up to the Diamond Jubilee, reveals Debenhams.
The high street retailer has seen strong sales across its huge range of Jubilee themed homeware and womenswear as everyone gears up for a weekend of celebration.
Commemorative plates, mugs, cushions and other decorative items such as bunting have seen a 34% increase and are hugely in demand as thousands of people gear up for the big occasion.
Britain's obsession with a good old cuppa means the top selling Jubilee products in the home department are mugs, which have taken 31% of the total sales.
Lizzie Singleton spokesperson for Debenhams says; "We have seen a right royal boost in sales as our customers are gearing up for the celebrations this weekend", our bumper sales of jubilee mugs suggest we will all be toasting HRH with a traditional mug of tea as opposed to Champagne."
Red Herring Jubilee t-shirts, at a value price of £7 have seen a 190% increase in sales in the last week. A tee with the slogan: 'Queen Bee' and crown designs have been the most popular as people plan their outfits to celebrate her Majesty's big event.
Clothing fit for a queen such as; low cost tiaras, ballroom dresses and long-sleeved gloves are also flying out the door as communities all over Britain prepare to dress up for celebratory street parties.
Not surprisingly the best-selling colours over the last few weeks in the womenswear, menswear and childrenswear departments have all been red, white and blue; the colours of the Union Jack flag.
And despite calls for independence, sales of Diamond Jubilee branded goods are equally strong in Scotland, Wales and Northern Ireland.
Lizzie Singleton continues: "Our sales figures really do show that we are a United Kingdom and that the Diamond Jubilee is going to be one of the biggest events to be celebrated across the entire country."
Debenhams jubilee prices start at £6, products are available in all stores nationwide. Shoppers can also head to Debenhams.com, and browse the Jubilee inspired summer fashion style guide showcasing the 'best of all things British'.