High gloss and glamour with Kahrs new Shine Collection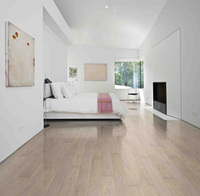 Kahrs has introduced its glamorous new Shine Collection. A stunning range of eight one-strip wood floors, the new collection features a high gloss, reflective lacquer sheen. Metallic infused wood grain adds further distinction to the surface, with colour options spanning from pearly white to copper toned black.
Crafted for sustainable European oak, beech and ash, the eight new designs include: Ash Black Silver, with a silver metallic finish and black stain; Ash Black Copper, with a copper metallic finish and black stain; Ash Retro, with a rich conker-coloured finish; Beech Bacarat, with a semi-transparent black stain; Beech Opaque, with a semi-transparent white stain; Oak Pearl, with white shimmer; Oak Fumoir, with a distinct lively grain and grey/brown finish and Oak Tabac, with a deep brown finish. All ash and beech floors measure 2420x187x15mm and oak designs measure 1800x130x15mm.
All floors from the new Shine Collection feature Kahrs eco-friendly multi-layered construction. Based on Kahrs original design, patented in 1941, the award-winning construction uses hardwood down to the joint only, with fast-growing timber below. This design, alongside Kahrs glueless Woodloc joint, provides 75% greater stability than a solid floor, eliminates gapping and promotes fast installation. Kahrs high gloss prefinish, built-up over several thin layers, provides exceptional durability and easy maintenance, without compromising the timber's natural lustre.
All designs are offered with a 30-year guarantee and can be laid on most dry, level surfaces including concrete, wood, particle board - and over under-floor heating. For more information, visit kahrs.co.uk.