Full speed ahead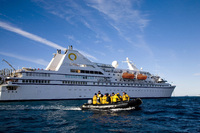 Quark Expeditions has reported an increase in the number of passengers during the 2011-2012 Antarctic Season. While new fuel regulations kept large cruise ships out of the Antarctic, according to a recent IAATO report, traditional small and medium sized expeditions ships saw a 9.4% increase in annual passengers. Quark exceeded industry figures with 10% growth compared to the previous year. Additionally, the company carried 21% of all Antarctic passengers in the market segment of Landed – Small Ship.
"We just completed an outstanding Antarctic season," stated Hans Lagerweij, President of Quark Expeditions. "Our smaller, more efficient vessels continued to provide Polar explorers with access to Antarctica while also helping to preserve the continent's indigenous wildlife and pristine rugged beauty."
To further the company's environmental commitment, Quark will operate the first CarbonNeutral® voyages in Polar travel history on the Ocean Diamond during the 2012-2013 season. The Polar pioneer's newest addition will depart on 3 November 2012 on the Falklands, South Georgia and Antarctica itinerary. The CarbonNeutral Company, world leader in carbon reduction solutions, is providing the carbon offsets for the ship.
Reservations
Quark Expeditions is offering three itineraries aboard the Ocean Diamond for 2012-13.
Introduction to Antarctica: The White Continent - 10 days, from £2,500
Antarctic Explorer: The Classic Adventure - 11 days, from £3,000
Falklands, South Georgia and Antarctica - Explorers and Kings: 20 days, from £6,060
For more information, visit quarkexpeditions.com.