Cocooning - NEOM's pregnancy and new mums collection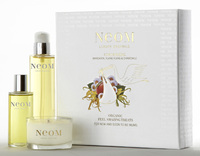 NEOM have carefully created 'Cocooning', the new heavenly scent designed especially for new and soon-to-be mums. This scent is a pampering, comforting blend of Ylang Ylang, Chamomile and Mandarin, the perfect antidote to tiredness and nausea, banishing mood-swings and frazzled spells with a well-deserved dose of me-time. And a happy mum means a happy baby! The launch includes 'Feel Amazing Treats' a collection containing a Treatment Candle, Bath Oil & Body Oil - the only trio to nourish skin and calm the mind, thanks to organic ingredients and pure essential oils.
Nicola Elliott, Founder & Director of NEOM & qualified aroma-therapist says: "At NEOM we're consistently asked whether essential oils are safe to use during pregnancy. It's a real unknown zone for many pregnant women who want to reap the huge benefits of essential oils at such an important time, but really not sure if they should.
We felt we had a responsibility to offer these women a clear and simple product to say to them "you can". A product with a blend of the right essential oils for pregnancy whilst offering them something organic that really works, so Cocooning was born. NEOM's new Cocooning range not only has the perfect blend of essential oils to combat nausea & tiredness the percentage we use makes the products 100% safe to use during pregnancy too."
Available from NeomOrganics.com Cocooning Treatment Candle (1 wick, 75g) in travel size works aroma-therapeutically. Light ahead of bath-time & breathe in the soothing fragrance. Made with pure vegetable waxes & pure essential oils. Cocooning Bath Oil 50ml (85% certified organic ingredients; 15% natural ingredients) is made with vitamin-packed organic safflower, essential oils of Ylang Ylang, Chamomile and Mandarin, making for an utterly gorgeous bath-time indulgence. Just one capful is enough to envelop you and leave your skin silky soft. Cocooning Body Oil 100ml (97% certified organic ingredients; 3% natural ingredients) an essential treat for bumps and post-natal tummies. Organic safflower and jojoba sinks into the skin to deeply hydrate. Massage daily in pregnancy for ultimate stretch-mark prevention and for baby to feel the benefit too!
For more information, visit neomorganics.com.