'Sixties Birds and Blokes' Angela Williams Exhibition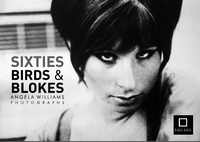 Acclaimed photographer, Angela Williams, will be exhibiting her collection of prints featuring some of the world's most illustrious stars. The exhibition will be held at Private Member's Club The Square, in Bristol for a total of 3 months. Photographing iconic names during the 1960s and 70s such as Marianne Faithful, Audrey Hepburn, Paul Newman and Pink Floyd, Angela's collection reads like a hall of fame. Several images selected for this exhibition have never been seen before and will be unveiled for the first time to both the artists and public alike.
Angela became assistant to Norman Parkinson in 1962, with whom she established a working relationship and creative collaboration which continued throughout her subsequent freelance career. After closing his Twickenham studios in 1964, due to a move to Tobago, Parkinson gave Angela the majority of his working prints. These became part of Angela Williams Archive (AWA), offering an insight into Parkinson's most exciting fashion, advertising and editorial photography. Angela has spent the last 15 years working with her fellow archivist, Michael Hewett, researching and cataloguing the images to enhance and enrich the AWA's collection, alongside promoting Parkinson's contribution to British fashion photography.
The current works by Angela herself, during her time as Parkinson's assistant, are on display to the public until July. The exhibition runs throughout The Square Club, situated in Berkeley Square, Bristol.