Prestige pre-owned watches made affordable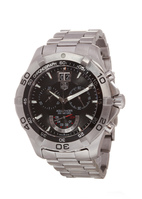 A prestige watch is something many people dream of owning, but aren't quite able to afford. Now thanks to new online retailer The Watch Expert the dream can become a reality.

TheWatchExpert.co.uk – part of jewellery chain Herbert Brown which has a 170-year High Street heritage – is dedicated to offering top quality, pre-owned Rolex, Cartier, Omega, Breitling and Tag Heuer watches at much lower prices than they were originally bought for.

For instance, an Omega Seamaster for men, manufactured in 2007, has a replacement value of £2,700, but is sold by The Watch Expert for £1,995, and a Rolex Datejust, manufactured in 1991, has a replacement value of £8,110, but is sold at more than half that price for just £3,395.

A woman's Omega Constellation, manufactured in 2002, has a replacement value of £2,600 and is offered by The Watch Expert for £1,495, and a 2010 TAG Heuer, which has a replacement value of £1,810, is priced at just £1,350.
The Watch Expert has hundreds of stylish, pre-owned watches across a number of price brackets available at any one time, all of which come with a 12-month warranty.

What's more, the online retailer offers the personal touch that you would enjoy in store but from the comfort and convenience of your own home. There is the opportunity to speak with watch expert David Beasley to ensure that you buy only the best watch at the best value. All interested customers need to do is send an email via TheWatchExpert.co.uk and they will receive a call back from an expert to discuss the watches of interest and answer any questions. What's more, The Watch Expert offers a special sourcing service so if a customer already has a watch in mind, The Watch Expert will make it their business to find and refurbish it.

Prestigious watches are more than time-keeping instruments, they are beautifully crafted pieces of collectable jewellery that makes for a smart investment as they do not depreciate in value. So, for anyone wanting to make a style statement and a shrewd investment, a prestigious, pre-owned watch from The Watch Expert is the smart way to do it.

As part of Herbert Brown, the internet retailer is owned by jeweller and pawnbroker Albemarle & Bond Holdings Plc and therefore has all the benefits of having a physical presence on the high street – expert staff with excellent customer service skills, an extensive product range and highly competitive prices. The online set-up simply brings the added bonus of making all this accessible to anyone, anywhere in the UK.

The highly skilled team at The Watch Expert examines every watch to assess its authenticity and working condition, using their extensive knowledge about each individual watch and its parent brand. Only when a watch has been fully refurbished to make it as good as new, and the team is confident it is in optimum condition is it added to the website for, in many cases, as much as 50 per cent less than its original price.

The Watch Expert's David Beasley, who has 40 years' experience of working with prestige watches, says: "In launching The Watch Expert we aim to make beautifully crafted watches more affordable. Prestige watches are generally thought of as things only the wealthy can afford, but this is no longer the case as all our pre-owned watches look, feel and work no differently to new watches, they just come at a much cheaper price."

The Watch Expert also offers a range of other services, including watch servicing and repairs and special orders, so if there is a watch that a customer wants, thewatchexpert.co.uk will find it.