5 sandal trends for summer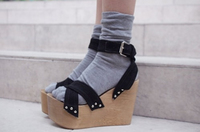 Summer is well and truly here. To welcome in the warmer days and longer evenings, there is a dazzling array of sandals to choose from this season. No matter what your taste, there is certain to be a style to suit, whether you are into practical, pretty or a mixture of both. This season even sees some innovative new incarnations of beloved classic footwear for a look that's really fresh.
It's not just what you wear on your feet that will help you make an impact, of course. Teaming the right shoes with the right outfit will refresh your look and make sure that you are looking great from top to toe. Here's a quick rundown of the season's hottest trends for a fresh new look for Summer 2012.
The Strappy Flatform
There's a new sole in town this season – the flatform. For those of you who don't know, flatform shoes are tipped to be the hottest new shoe shape of the year. The marriage between comfortable flats and the height of a heel won't appeal to everyone, but their influence is going to be pretty hard to ignore this summer. This pretty pair of sandals can be dressed down for the weekend with a skater skirt and blouse to create a look that is effortless and relaxed, or teemed with an evening dress for glamour at the summer ball.
The Fringe Leather Tassel Thongs
If you prefer to wear shoes that are a little closer to ground level, then you can't go wrong with a pair of thong sandals in bright yellow leather. They are a great way of introducing a splash of colour to your look without going too OTT. Pair with clothes in muted tones to ensure that these gorgeous sandals really stand out.
The Woven Flat Sandals
Flat shoes are definitely the biggest trend of the season as fashion gets practical as well as pretty. Woven flat sandals are perfect for hippy chicks that are spending their summer at festivals. Ethnic and low key so they'll go with any number of outfits, but sensible enough to let you concentrate on having a good time no matter where you end up.
The Buckled Sandals
These sandals are edgy and cool and bring an element of punk to even the most feminine outfits. They can be worn with jeans and a tee for a summertime rock chick vibe, however pair them with an ultra girly outfit such as flowery chiffons and pastel hues and you will create a look that is much more balanced and fresh for summer. This is another flat shoe that is undeniably sexy and the detailing of the buckles is a fabulous reinvention of the eternally popular gladiator trend.
The Black T-Bar Wedge
Another incarnation of this season's popular flatform sole, the Black T-bar wedge is definitely a party shoe. Patent straps and a monochromatic black and white sole is the perfect antidote to the pastels that usually infiltrate the stores during spring. They are great for a night out on the town or for taking away on your summer vacation. The high rise sole gives you maximum height without the need for a massive heel, making them comfortable to wear for day or night.
This guest post was written and contributed by Zoe, a fashion blogger with a penchant for shoes! Currently, Zoe is writing on behalf of heritage handbag and footwear brand Jane Shilton.