Summer special 'eco' stay in the New Forest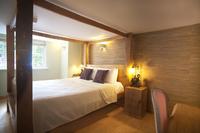 Multi-award-winning 5-star boutique B&B Cottage Lodge in Brockenhurst, in the heart of the New Forest, has put together a great summer offer for those who can get away between Sunday and Friday, five-nights from £288 pp including some added extras!
Weekends are inevitably the first dates to get booked up and room prices usually drop during the week meaning great deals for those who can be flexible with dates.
Cottage Lodge has won many awards for sustainability; most of the furniture has been hand-made from New Forest Ash, a special bicycle made out of re-cycled parts is located in one room to generate power for the television, solar panels heat the water and materials that were selected for their low-carbon properties in the rooms include Marmoleum (jute) and bamboo.
The rooms also use LED lighting and low-energy light bulbs and eco paints and low impact building materials are used throughout. Windows, doors, tiles, piping etc. are all reclaimed or recycled.
The price also includes 2 x complimentary Bucks Fizz breakfasts in bed, 1 x cream tea, 5 x free self-guided walking guides in the New Forest National Park, and the convenience of a late check out on day of departure to Noon. The property also has Free WiFi and off road parking.
To book, visit cottagelodge.co.uk.