Miller Homes service impresses FirstBuy buyers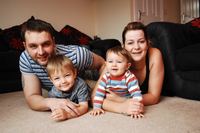 Award-winning housebuilder Miller Homes East Midlands has recently welcomed young family of four the Quibells to its Deansleigh development in Lincolnshire using FirstBuy.

Both from Scunthorpe, hairdresser Kirsty Quibell, 25, and her husband, Darren Quibell, 27, a master technician and workshop controller, are excited to be settling into their three-bedroom Hawthorne style house.

FirstBuy is a scheme designed to help first time buyers into affordable home ownership.
Buyers qualifying for the scheme have the opportunity to select one of the many FirstBuy properties available from Miller Homes and will be able to purchase 100 per cent of their home by paying up to 80 per cent of the value now, with both Miller Homes and the Government equally funding the remaining 20 per cent in the form of an equity loan.

"FirstBuy really helped us with the deposit and it encouraged us to save the rest, something which we never thought we would be able to afford to do", explained Kirsty.

"This is our first home together, having previously lived with my parents to save for the deposit. We had rented before and faced many of the usual letting problems but we were unsure about how to approach buying a house, and a little overwhelmed.

"As soon as we stepped into the sales centre at Deansleigh, the sales advisor made us feel at ease and discussed all the options.

"FirstBuy proved to be the ideal solution for us as it provided an affordable and secure way to purchase our dream home and the team made us feel confident in our decision, keeping us updated every step of the way.

"We fell in love with the house as soon as we saw it. It is the perfect location for our family and we are so proud of it. I think our boys love it even more than we do. We have already recommended Miller Homes twice and will continue to do so."

Paul Walters, regional sales manager for Miller Homes in the East Midlands, added: "Deansleigh is perfect for the Quibells. It has all the elements they were looking for in a location. It is near a fantastic school, close to the A15 so they can commute really easily, and they love the nearby parks and playing fields.

"We were thrilled that they rated our properties and sales advisors so highly, but not surprised at all. The Miller Homes team works incredibly hard to make sure that customers feel comfortable and it is very rewarding when this is recognised."

Homebuyers in Lincolnshire will be able to find out more about affordable home ownership at a special FirstBuy Weekend, which is being held at the Deansleigh development on 7 and 8 July.

As well as finding out more about the scheme, visitors will also be able to see the properties available via Firstbuy. These include the three-bedroom Hawthorne-style home, which has a luxurious master bedroom and en-suite shower room. With prices starting from £138,950 or £111,160 with FirstBuy, it is the perfect opportunity to get a foot on the property ladder at one of Miller Homes' most sought after developments.

Visit millerhomes.co.uk for further information.