Going beyond the call of beauty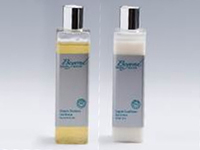 Beyond Organic Skincare was set up to do exactly what it says on the tin, go beyond simply providing organic beauty products. They felt that whilst there was a growing number of organic beauty brands on the market there was a lack of products that went that extra mile; that were organic, but also paid attention to the finer details.
Whilst producing products that help protect our planet is central to Beyond Organic's beliefs, they don't want people to have to settle for inferior products at a higher price just to have the organic tag. They aim to provide highly effective products that really make a difference to the health of your skin, that protect it from harmful chemicals and the elements, whilst giving it the love and attention it deserves through gorgeous high quality skincare.
Having picked up tens of awards for their skincare products, it was a natural step for Beyond Organic to produce a number of hair care products and their first two offerings appear to have hit the mark.
Beyond Organic's Seabreeze Shampoo and Conditioner are at the forefront of the natural and organic philosophy, they are free from harsh chemicals and instead use powerful combinations of essential oils and plant extracts to help nurture your hair and scalp back to its best.
Their Seabreeze Shampoo is suitable for normal and dry hair types, is 71% organic, 100% natural and free from harsh chemicals. Instead of stripping your hair of its natural nutrients it uses a unique combination of ingredients to bring your hair back to its full health. Every aspect of the shampoo has been thought through and heavily researched with each natural ingredient picked to provide specific benefits.
You'll find lemongrass oil, used to help produce a deep cleanse, next to an extract from sugar beet that acts as a gentle moisturiser. Aloe Leaf juice, for its soothing properties, is used alongside rosemary oil, which helps nourish your hair and leave it looking fresh. The combination results in a shampoo that not only looks and feels great, but is highly effective, not only for your hair, but also the health of our planet.
Beyond Organic's Organic Seabreeze Conditioner carries on where the shampoo left off, combining shea butter, with coconut and jojoba oils, among other exciting natural ingredients, to create a silky smooth conditioner with a fresh fragrance that has already been picking up accolades.
The natural powers of both these products are locked away in simple, yet elegantly designed, recycled plastic bottles. So if you are looking for a new natural and organic solution to caring for your hair and scalp then visit Beyond Organic at beyondorganicskincare.com.