Hong Kong's Hotel Icon unveils Vivienne Tam designer suite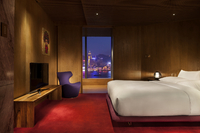 Hong Kong's Hotel ICON has unveiled a bespoke 27th floor Suite curated by fashion designer Vivienne Tam, part of its mission to showcase innovative and iconic designers. The collaboration represents a homecoming of sorts for the New York-based designer whose brand of 'China chic' garners accolades worldwide: she studied at The Hong Kong Polytechnic University (PolyU), which owns Hotel ICON.

Against sweeping views of Hong Kong's Victoria Harbour, Tam has created a one-off Suite inspired by her New York apartment home that exudes a blend of chinoiserie and modernity, a signature of her style.
The 80 square metre Suite references modern design with Chinese accents and incorporates the principles of feng shui to create an elegant yet simple space. It offers a peek into Vivienne Tam's private world – she uses items that decorate her own home to furnish the Suite - and is an expression of her ideal home-away-from-home.
Starting with a palette of rich woods and textured marble, Tam plays with varying shapes, organic forms and objects, some taken from her private collection or specifically commissioned.

Upon entering the suite, eyes are drawn upwards from the magnificent view to reveal a ceiling designed to resemble a Chinese screen. In the living room, the deep red sofa -"ploum" by the Bouroullec brothers – contrasts with the rich wooden textures of the centre table of solid Japanese cherry wood and the raw wood slab of the desk. The white relief artwork is a found object from Tam's New York home, while all the books are from her private library.
The bedroom evokes Shanghai's Art Deco period: a sultry purple bed; a decorative bedside lamp; the shock of red velvet carpet; and Chinese courtesan plaques. Tam custom-made a number of art pieces including a portrait of 'Opera Girl' made entirely of Swarovski crystals: she created the character for her 2011 line of accessories inspired by the Chinese Kun opera.
Richard Hatter, General Manager of Hotel ICON said: "This is a special collaboration for us for two reasons: it underscores our mission to be unlike any other hotel and at the same time showcases and celebrates one of our truly homegrown talents."
Tam said: "As an alumnus of The Hong Kong Polytechnic University, it is an honour to take on this challenging project. It's my way of contributing to the very school that nurtured my interest in fashion design. Like one's home, this space is meant to change and grow."
To mark the launch of the Designer Suite by Vivienne Tam, Hotel ICON offers the Vivienne Tam Urban Retreat from £495 per night, available for stays until 31 August 2012 that includes:
One night accommodation in the Suite

A relaxing 90-minute massage for two at Angsana Spa by Banyan Tree

A seven-course set dinner for two at the award-winning Above & Beyond Chinese Restaurant

Breakfast for two at Above & Beyond Lounge

Complimentary bottle of sparkling wine and mixed berries delivered to room upon arrival

Discount vouchers for gift purchases

Exclusive access to Above & Beyond Club, allowing guests to enjoy complimentary afternoon tea and evening cocktails.

Visit hotel-icon.com for further information.