Rediscover the magic of Miami's Mayfair Hotel & Spa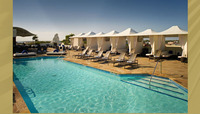 The first all-suite boutique hotel in America is making a comeback. Invoking its heyday, when Miami movers-and-shakers danced the night away at Ensign Bitters private club, Mayfair Hotel & Spa, an upscale AAA Four Diamond boutique hotel located in the heart of Coconut Grove, Fla., is set to undergo an all-suite renovation, with an unveiling planned this autumn. Each of the 179 suites will receive brand new furniture, fabrics and bedding, providing a fresh, vibrant look to the spacious rooms.
"The Mayfair is an iconic South Florida hotel with an incredible history," said Saun Lightbourne, executive director of sales and marketing. "We hope that the upgrades we are making to the physical aspects of the hotel translate to the ambience here as well. We want all of our guests to come rediscover the Mayfair and experience the new energy here in Coconut Grove."
While many of architect Kenneth Treister's original touches, such as Tiffany's stained glass, hand-carved mahogany doors and detailed metal work, remain highlights of the hotel, the design team is catering to the needs of today's savvy traveler. 67 rooms will feature a brand new wood desk with faux leather desk blotter, desk lamp with power outlets and black faux leather ergonomic desk chair. All guest room floors are being crystallised and the Japanese soaking tubs will receive a fresh coat of paint. The beds in all rooms will be fitted with new 100 percent cotton duvets and Euro shams. Duvets will feature orange double-stripe hotel embroidery and the shams will coordinate with a new decorative round orange bolster. The addition of brown linen bedskirts will provide a tailored finish to the beds. All dining chairs and lounge furniture have been refurbished and reupholstered to create a unified color scheme throughout the hotel.
The rooms are being refreshed and upgraded by Copperline Partners design team, whose experience includes projects with Brazilian Court Condominium Hotel in Palm Beach, Fla., The Gulfsteam Hotel in Lake Worth, Fla. and hotels throughout New York and Connecticut.
The hotel will re-launch with a celebration on the rooftop, specials in the restaurant and spa and a special Rediscover Mayfair Package. For more information, visit mayfairhotelandspa.com.