Restored Welsh castle opens as a luxury guesthouse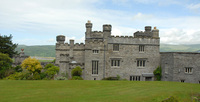 An imposing Grade 2 listed Regency gothic revival castle with dramatic views of the Dyfi estuary and the mountains of Snowdonia is now open for business as a luxury boutique guesthouse.
Restoring the crumbling Glandyfi Castle, built in 1810, to its former glory has been a five-year labour of love for the Holmes family, who are proud of what has been achieved.
Perched high above the road between the ancient market town of Machynlleth and the university seaside resort of Aberystwyth, the castle stands within 45 acres of wild, rolling meadowland, ancient woodland and formal gardens, which have been rescued from an overgrown wilderness.
There are eight bedrooms for guests, ranging from huge - complete with four poster bed and painted cornices - to modest and charming. All the bedrooms are very stylish, elegant and unique and contemporary bathrooms range from extravagant with circular Jacuzzi bath to attractive and functional.
The interior décor is a sophisticated mix of quality antiques and contemporary design with deep, comfortable sofas, influenced by Maureen Holmes' early training in theatre design.
"Because the castle has a history related to the arts, I would love to welcome groups to stay for courses, workshops and functions," said Maureen. "The property also lends itself to intimate weddings, birthday parties and special occasions."
The castle is located close to the RSPB reserve at Ynys Hir, which recently hosted the BBC Springwatch programme for a second year. The Springwatch team, including presenters Chris Packham, Michaela Strachan and Martin Hughes-Games, were the first paying guests at Glandyfi Castle and were impressed by the accommodation and hospitality.
Strachan wrote in the guest book: "I couldn't imagine a nicer, more comfortable place to stay..... I felt like a princess in my amazing room", while Packham wrote: "Staying at the castle has been a total treat. Hospitality, fine food, wonderful environment, views to die for and history."
To help market the new business, Glandyfi Castle has become a member of Mid Wales Tourism, an independent organisation representing 600 tourism and hospitality businesses across Powys, Ceredigion and Meirionnydd.
The Holmes family, supported by assistant Tabitha Ware, aims to offer luxury hotel-style service without any stuffiness or restrictions. Service is customised to suit the need of guests.
"Our strength lies in attention to detail and being empathetic to the needs of our guests at any particular time," explained Maureen. "Our beautifully decorated and comfortable rooms, real fires and fine food, together with an honesty bar, ensure that the experience of staying in a unique country house such as Glandyfi Castle is informal and relaxed. There are no pretensions of grandeur - just pure luxury and relaxation."
Inspired by her mum, a trained chef, who a successful B&B in Devon, Maureen always dreamed of following in her footsteps because she, too, has a passion for good food and hospitality. "Although I wanted to run a B&B or guest house, I never imagined that we would do something on this scale and we had lots of sleepness nights along the way," she said
"The moment we arrived here for the first time I thought 'Oh my goodness, it's fantastic'. It wasn't the grandeur that appealed to us, it was the location and the fact that the castle hadn't been messed around.
"No significant maintenance work had been carried out for 50 years. We actually found a piece of timber that was signed by a carpenter from Tywyn in August 1907, exactly 100 years to the date we bought the castle."
The first two years were frustrating for the Holmes family, as they awaited a decision by Cadw, the historic environment service for Wales, on the planned restoration work to the castle, which was cloaked in scaffolding.
They used this time to hire recommended builder J. B. Roberts and Son from Corris and Maureen restored the gardens. After stripping the castle back to its skeleton and finding some hidden doors and windows amongst the stonework, the team set about the extensive structural repairs.
Brian Roberts' team crafted authentic new doors and a specialist plaster moulding company in Birmingham replaced damage cornicing. "The craftsmanship and commitment of Brian and his men has been incredibly impressive," said Maureen.
"We feel a real sense of satisfaction in seeing a place put back together for future generations to enjoy. Rather than being owners, we feel like custodians."