Need for a needle-free tan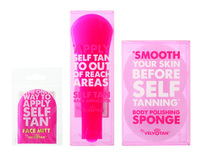 With the latest tanning crazes posing serious health threats to those who follow them, safer tanning options are more important than ever.
The headlines have been dominated recently by the risks of using Melanotan injections, but self-tanners needn't go to such extreme and potentially damaging lengths for the perfect tan - natural results can be easily achieved thanks to Velvotan's harmless collection of tanning tools.
The revolutionary range - including the Body Polishing Sponge (RRP £2.49), Back Applicator (RRP £4.99), Face Mitt (RRP £1.99) and the Original Self Tanning Mitt (RRP £2.99) - has been specifically designed to target the most common self-tanning downfalls, such as patchy application, streaks and staining to the palms, helping you achieve a gorgeously flawless finish.
For optimum results, use the tools in conjunction with each other as part of complete self-tan application regime and remember to moisturise after washing to pro-long and maximise your sun-kissed look.
Rachel Magan, Marketing and Creative Services Manager at Velvotan, says: 'At Velvotan we're passionate about promoting the benefits of a safe and healthy glow, and encourage tan-seekers to fully consider the risks of using Melanotan and Melanotan II, as well as sun-beds, when choosing the right tanning option for them.'
The Velvotan range is available in Tesco, feelunique.com, Bodycare, Gordons, and pharmacies nationwide.