South Pembrokeshire family activity holiday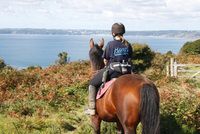 Get away with the family to Pembrokeshire in West Wales for a week of pure and simple fun.
Your accommodation for the week is a self catering holiday property which will be sure to become a real home from home. The holiday property will be located for you to enjoy your week of adventure as well as exploring the area in your free time.
The adventure activity of coasteering is sure to set the adrenaline flowing and will provide you with plenty of screams and laughter. Squeeze into your wetsuit, fasten your buoyancy aid and helmet and tie your trainers firmly and let the adventure begin. Explore the Pembrokeshire coastline with a mixture of swimming, scrambling, rock hopping and cliff jumping. There will be several cliff jumps along the way all of differing heights.
The Pembrokeshire coastline is an excellent place to learn to surf and by the end of this experience session you will have caught the surfing bug. After being kitted up in your wetsuit and with your board, you will learn the basic surfing techniques on the sand and once you are feeling confident, you will head out into the waves. Your surfing instructor will be on hand at all times to give advice and support when needed but you will soon find yourself riding the waves!
Rock climbing and abseiling on the rocky cliff faces of the Pembrokeshire coast will really test your head for heights. Your experience session will begin by being kitted out with a safety harness and ropes, before taking that step over the edge and abseiling down the cliff face, with the sea crashing beneath you. Now you have reached the bottom - the only way is up! Feel a great sense of achievement as you climb back up to the top, finding those little nooks and crannies to grip, but they may not be as close as you think!
The final activity on the family itinerary is a horse riding which will combine a lesson with a hack. During the horse riding lesson you will learn basic stopping, starting and turning techniques. The second part of the horse riding experience session is a trek through the woods with no road work so all abilities are able to take part and experience the great outdoors on horseback.
Guide Price:
From £325 per person for 7 nights self catering accommodation, coasteering, surfing, rock climbing and abseiling and horse riding. Price is based on a family of 4 sharing.
Visit activitywales.com for more information.